Last Updated: 26 April 2004
Hein family continued.
A / B / C / D / E / F / G / H / I / J / K / L / M / N / O / P / Q / R /S / T / U / V / W / X / Y / Z

continued.......

Alfred Hein's Page continued.....
H to Heim / Haerter / Hein / Hein2 / Hein3 / Hein4 / Hein5 / Hein6 / Henke to Herzog / Hess 1 / Hess 2 / Hess 3 / Heydt to Hoeffel / Hoeger / Hoeh. to Hz H6 /

H7-Letters:
---
Kurudschika Village in Bessarabia, S. Russia
in
1938,
Easter Monday
Alfred Hein wrote: The great buildings behind the people is the mill of Daniel Lemke and Heinrich Hensel." [See photo below].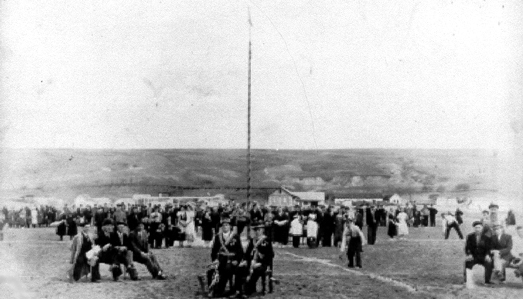 Kurudschika Village in Bessarabia, S. Russia, Easter Monday in 1938
In the photograph above there is a tall pole. The flag was drawn up by two flag bearers. In May this was the May Pole. In winter it was decorated for Christmas...
Alfred Hein wrote on 6 April 2004 that the photo was taken on the sportsfield in Kaurudschkia. In the photo we can see the Easter Tree, which is part of the Easter Monday Festival.
Alfred Hein added that there will be an aricle about Easter Monday in the Bessarabian Mittelungsblatt which followed another article of his dated on 1 April 2004.
The festival is from a very old German practice [ritual].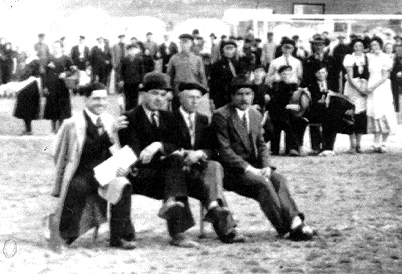 Easter Monday
Since Easter Sunday was a day of Repentance and Prayer, the activities were simple. If a person attended the "Sunrise Services", he or she walked to the cemetery which had been groomed and fresh flowers were laid upon the graves. If a person attended church it was done so later in the morning. Some people fasted during the day. It was a day of quiet somber. The following day, however, which was Easter Monday Festival, the somber quiet was drowned by the excitement and joy along with music and fun activities for young and old. Many attended the church services in the morning. There was a huge gathering [picnic] for lunch. The afternoon was meant for the youth. Easter egg hunts, egg tossing and other kinds of games were played. Music was played all day and into the night as the old and young people could just sit and listen or join in the dancing..... The evening meal and celebration was taken indoors and continued into the night with music, dancing, games and other activities.
JARH NOTE: For an excellent article on Easter and the Egg Search on Easter Monday see the Bessarabian ~Newsletter, Volume 8 Issue 1, April 2004 under the title of Bessarabian Festivals on page 1. See Bess. Web Site:

Bessarabian Web Site - GRHS