Last Updated: 27 May 2009
Hein family continued.
A / B / C / D / E / F / G / H / I / J / K / L / M / N / O / P / Q / R /S / T / U / V / W / X / Y / Z

continued.......

6: continued.....
H to Heim / Haerter / Hein / Hein2 / Hein3 / Hein4 / Hein5 / Hein6 / A.HeinPhotos / Hein7/ Hein 8 /Henke to Herzog / Hess 1 / Hess 2 / Hess 3 / Hettich to Hoeffel / Hoeger / Hoeh. to Hz H6 /

H7-Letters:
---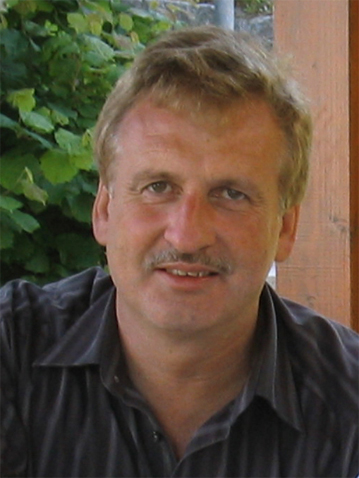 Alfred Hein's Page
Des. of Konrad Hein and Karolina Nickel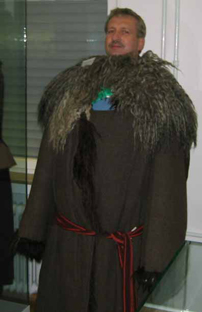 Alfred Hein is standing behind a " Schafspelz " in a museum.

See list of all his photographs

....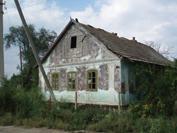 INDEX: Alfred Hein's Trip to See Museum about Bessarabia, S. Russia
<< Hi Judy Remmick-Hubert
> It's a pleasure to hear from you. I think equal.
Excuse my ....English!
I'm looking in other places.... It's said that most of it was in Kischnev.... Do you know where to find data-records on Kishinev/Moldavia ?
Was your family Lutherans?
The only Hein who sold and breed horses in Borodino was Michael Hein1
Now I know, that I have to look at his brother Johann born 1.8.1854 in Borodino (and died 1938 in Kurudschika told me my uncle, the wife (name is unknown) of him died 1929)
He is listed on your sites as son of Michael Hein *1829 and Elisabeth Motz*1836
[remmick's notes: This was later discovered as being in error. See Georg Hein b. 1807 and his desc. undser son Konrad Hein b. 15 July 1832]
An old uncle told me. They Johann or Michael) sell 120 ha in Borodino and buy over thousand ha in Se(i)ns(z)erin (this is only the sound) near Kischinev/Moldavia for ca. 300-400 horses all over 180 cm high. I think at the Revolution 1917 or in the Rumania time after, Johann lost all and went with his wife and children to Kurudschika.
Johan had at least 3 Children
Sophia (went to Mecklenburg after the war)
Emilie married a Hess and went to Canada
Friedrich my grandfather born 3.9.1887 in Borodino
For a time, Friedrich Hein lived in the village of Kurudschika / Bess. S. Russia. This photo was taken in 1932-5.
Do you have any dates I could use to look in various records? I hope you have an idea where to look. Your page is enormous!
I start my ancestry-studies 1995 (but on my dead fathers-side nobody have any dates ). Then the studys are for 5 years untouched, because I built a house and have also enough to do at work.
Last Christmas I was told by a Polish pupil of my class that she was born in Bydgosz/Bromberg in Polen. Somebody has told me, that my Grandfather Friedrich stayed 1941 to 20.Jan. 1945 near Graudenz/Bromberg. In Juni I went with the correct name of the village and a photo of my 1944 died grandma on a brick-house to Kossolo -and I found the 1941 occupied polish-farm.
On my trip I met and went with Irmgard Schlenker born Hess (1936 Kulm/Bess) from Sacramento/Kalif. [California] to see Neubrueck in Polen. I help her and her grandchild, and she helps me. We found her house/farm (from 1941-45). We discovered that our grandfathers brought her milk to the some milk station near Lessin.
In August I went with Dr. E. Kelm and the Bessarabia organization to Ukraina and visit two times Kurudschika but only a few minutes Borodino in the evening. At this time I don`t know that my grandfather was born in Borodino.
Kurudschika is very poor. Now there lives Bulgarian. We spent a lot of money for schoolbagages, books, pencils and so on.
The houses/farms of my grandfather and Emil Hess (83J) from Schwäbisch Hall/Ger who stayed with me, are never been.
Two times I visit Bad Burnas, Basyrjamka and the Black See and we made a big wine-taste(15 sorts). One time we went to Wilkowo and and shiped on the Donau as our ancesters. And one time we visit a lot of the old mother-villages. We had all days a lot of food and wine by our hosts in the villages.
Most generations are not as spread out in years as they are in the Hein family
Before I see your homepage I don`t know that ther are so a lot of Heins all over the world - thank you very much for your acribic work. In the future I will have a look on your others sites about Remmick and Hubert.
That can be - my grandfather has married 3 times - that makes it dificult.
Some Hein-Photographs from you look likly my fathers or grandfathers looking (face).
In the Koblenz-List I wonder why he (Friedrich) aren`t listed. He went with his wife and children 1940 by train to Galatz (with the peoble from Kurudschika) and then with ship to Krems/Donau/Austria.
I will in the next months visit the bessarabia-heritage-museum in Stuttgart.
Perhaps they have any datas about my Friedrich Hein or his Father Johann.
I hope you discover details of Johann.
Friendly
Your
Alfred Hein
Hein@wms-hn.de >>
JARH NOTE #1: Michael Hein (b. 1844) is our ancestior.
-------
In a message dated 5/14/03 1:57:50 PM, Alfred-Hein@web.de writes:
<< Hi Judy
Thank you for your meaning about the war und for your help with my grandfather.
I have interesting news about my ancestry from the "Heimatmuseum in Stuttgart".
In different peace-groups we discussed about your feeling and thinking about Irak-USA-Germany. It had been very good discussions and they go on!
On last sunday I enjoyed www.bessarabia.com for the first time, it was interesting to see this sites.
Two pictures from "Mifi"/Mittelfischach my birthtown near Schwaebisch Hall.
Some pictures from Bessarbia-2003-journey
Loveley Greetings
Alfred Hein >>
--
Judy's Note:
Alfred has sent me a very complete pedigree chart of the Hess family who's branches of families migrated to Borodino, Bess. S. Russia. Please see Wernher Hess b. 1460 of Wolfschlugen [Germany] and his des. through his son Hans Hess b. 1526 in Wolfshlugen and d. 26 April 1573 in Groetzingen / ____ [Germany].
Letter, an update, 9 May 2005, on ancestors of Alfred Hein:
Hi Judy
...Now I'm sure You and I are cousins.
The Heimatmuseum in Stuttgart explored in the familybooks the correct line, from me Alfred *22.01.1956/Gaildorf, over my father Artur *07.07.1923/Kurudschika to Friedrich Hein *03.09.1887/Kurudschika, then to Johannes Hein *05.08.1863/Borodino and Conrad Hein *15.07.1832/Borodino his parents Georg Hein *23.02.1807, bricklayer and Elisabeth Hoeger *00.00.1815 are well known of you!
For some days I found an old cousin in the north of germany. Her brother takes an article over the jubilate-date of Leipzig 2006 in the Mitteilungsblatt. I ring him up.
Today I get from the cousin Else (*1927), his sister a Photo from the marriage , march 15th 1912 of my grandfather Friedrich Hein born 1887 in Kurudschika and his wife Maria Baessler born 1893 in Leipzig Bessarabia.
My son and I also start with the beginning of www.Kurudschika.com In the future I will translate the text to english.
On friday I fly to Peking and have a railway-trip (Transibirische railway) to Moskau.
I wish you all the best.
Your cousin
Alfred
(Alfred-Hein@gmx.de)
--------

See list of all his photographs

INDEX: Alfred Hein's Trip to See Museum about Bessarabia, S. Russia
-------------------
New web site for another Alfred Hein, whom you should not confuse with the Alfred Hein mentioned above:
http://www.hein-familien.de/HTMLAH/Stammbaum/ahnen.html
He has listed a Johannes Heyn b. 1620 d. 3 Feb 1698, son of Peter Heyn, m. to Angela Heyn