German-Russian Bessarabian Colony of Borodino and Periojany [Beriojan] Chutor Genealogy List. Remmick-Hubert Web Site: Page H - Hein List continued:
A / B / C / D / E / F / G / H / I / J / K / L / M / N / O / P / Q / R /S / T / U / V / W / X / Y / Z

continued.......

4: continued.....
Haarlose*, Haas, Haase, Haberer, Hach, Haeger, Haerter, Haetterle, Haertel, Hagedom, Hagedorn, Hagen, Hager*, Hahn*, Haier, Haller*, Handel, Haputman, Hargstaster(?) [poss Bergstrasser], Harlass, Harlos, Harlose*, Harloss, Harmel, Harter, Hartmann, Hartze, Hass, Hauf, Hauff, Haupt [Hauff?] , Hauser,[Hausser]] Hayer, Heberer, Hede, Hederley, Heforhes, Hehs [?Hess], Heger*, Hegner, Hehr, Heidsen, Heidt, Heier, Heihn, Heim, Hein*, Heirer, Helfrecht, Henke*, Henning, Hentz [Hintz], Henzel, Hepp, Herbst, Herr, Herter, Hertle, Herzge, Herzke, Herzker, Herzog, Hess*, Hesz, Hetzel(?), Hettich, Heydt, Heyn*, Hiersch, Hildebrand, Hildebrandt, Hiller, Himrich, Hindemith, Hintz, Hipp, Hirschkorn, Hirschmann, Hirkle, Hoch, Hoefel, Hoeffel, Hoeger*, Hoehn, Hoerter, Hoerth, Hoess, Hoffart, Hoffer, Hoffert, Hoffmann, Hoger, Hoier, Holdorf, Holstein, Holzhausen, Holzwarth, Hosel, Hoss, Hotz, Hoyer, Huberer, Huberle, Hubert**, Huesel, Humann, Humbert, Hummel, Hust
H to Heim / Haerter / Hein / Hein2 / Hein3 / Hein4 / Hein5 / Hein6 / Hein7/ Hein 8 /Henke to Herzog / Hess 1 / Hess 2 / Hess 3 / Hettich to Hoeffel / Hoeger / Hoeh. to Hz H6 /

H7-Letters:
Borodino.Home.Site Page 16
Sources Used for Hein & Other Families

Karl Stumpp's Book: THE EMIGRATION FROM GERMANY TO RUSSIA IN THE YEARS 1763 to 1867
A marvelous annd necessary book for those of us researching our German-Russian roots. It can be purchased through AHSGR or GRHS or GRHC book stores. Go to their site and their book store is on their Home Pages.
Introduction page 13 which includes history of the German migration to Russia
Page 46 is where the different German villages known to have had Germans who migrated to Russia
Pages on early migration 1763 begins on page 66.
Page 85 begins to talk about Bessarabia and list colonies.
Pages 100-101 show maps of various palces German emigration of Germans into Russia took place.
Volga Lists start on page 117.

Hein families can be found on page 133

List of Mennonitens page 166 begins.

Hein families can be found on page 182

Black Sea Migration begins on page 204

Hein families can be found on page 299
Village of Borodino / Bess pages 512 to 515
Village of Tarutino / Bess.

Hein family mentioned page 299 but not in the village section

Village of Krasna / Bess mentioned on page 299

Hein family mentioned on page 528

Passports of German emigrants to Russia List begins on page 973
#S-2
Title Page

Heimatbuch

Borodino

und

Friedrichsfeld

by Ernst Hoeger, Erwin Heer, Wilhelm Schaupp and Artur Schock

This book is written in German. It has a great deal of information, maps [#1: 1940 copied from Weissner's map of village], pictures and lists, including the houses that had on the chimney a nesting stork which brought a family good luck .364 pages.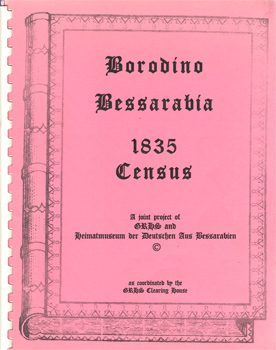 Borodino, Bessarabia, 1835 Census, A joint project of GRHS and Heimatmuseum der Deutschen Aus Bessarabien, as corindated by the GRHS Clearing House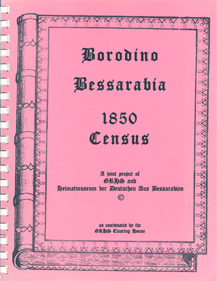 Borodino, Bessarabia, 1850 Census, A joint project of GRHS and Heimatmuseum der Deutschen Aus Bessarabien, as corindated by the GRHS Clearing House
#S-32
Kloetitz [Klotitz]/ Bessarabia Marriage Records
Because Borodino didn't have a church for some time, many of the families of Borodino were married in Kloetitz and a person should research their records for family members even though they lived in Borodino. After the church was built, many returned to Kloetitz to continue the family tradition of being married in the same church as their ancestors before them.
A good example was Johan Schweikert m. 1839 , Jacob Schweikert m. 1861, his son Karl Schweikert m. 1884 and his daughter Christina Schweikert m. 1904, the last three were married by Rev. Peters in Kloetitz church.
Marriage Records of Kloetitz: http://pixel.cs.vt.edu/library/bess/klos/link/klosmarr.txt
Kloestitz Marriage Records, 1854-1880 (J. Walker). . . . . .

Published by the Odessa Digital Library - 4 May 1996

http://pixel.cs.vt.edu/library/odessa.html

This document may be freely used for personal, nonprofit purposes or linked by other WWW sites. It may also be shared with others, provided the header with copyright notice is included. However, it may not be republished in any form without permission of the copyright owner.

Copyright 1995, JJW - P.O. Box 61, Selfridge ND 58568

(74651.1272@compuserve.com)

This file contains the 1854-1880 Marriage Records from the village of Klostitz, Bessarabia. This information was prepared by Judith J. (Beglau) Walker and coworkers from Film #038902 published by the LDS. This is an extracted index, edited by Martin McMahon. This work may be freely copied for nonprofit purposes. -mm (04-28-96)

Grooms Surname [ Brides Maiden Name ] Marr. Date Br. Other Marriages G/B Grooms Father Village of Groom No. Misc. Info
#S-9
175 Jahre Borodino, 1814 bis 1989 Borodino und Neu-Borodino (Bessarabien) by Ernst Hoeger. Published in 1989

#LDS = Church of Jesus Christ of Latter-day Saint's Film found in the Genology Libraries [Main library at Family History Dept., 50 East North Temple St., Salt Lake City, Utah 84150]
Example of film source:
Jacob Hein died Dec. 1864 was the son of Jacob and Elizabeth, nee Kassel, Hein. Family no. 55
I used the Oakland, CA LSD library. I had to rent film from Salt Lake and when I do I found it was easier and cheaper for me to rent it for the year then it was at the library when I wanted to see it.
Film Numbers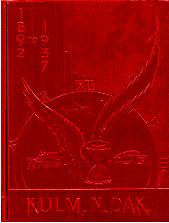 Above is the Kulm , N. Dak. Book, 1892 to 1957 which is dedicated to early pioneers of Kulm. Many were German-Russians who settled in this area, like my Hein family. See my web site at:
http://www.remmick.org/KulmND.Genealogy/index.html
You can find other small town books that give your the history and the names of the early pioneers.
BOOKS
---

Any questions, corrections and additions, contact me at: RemMick@aol.com