Edenkoben / near Landau, Palatinate (Pfalz), Germany. Remmick-Hubert Home Site Oschsner Family History continued.
Last Updated: 9 Nov 2000
Remmick Web Site Page 13.2

Edenkoben. Home.Site, index page

Ochsner Family History continued......
Pioneers On Two Continents
Find many of the children of the families mentioned above in Col. Ret. Wenzlaff's books Pioneers On Two Continents n the books stores of AHSGR and GRHS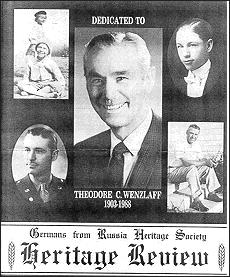 Mr. Theodore C. Wenzlaff (1903-1988) wrote the First and Second Edition of the Pioneers On Two Continents which are about his ancestors the Ochsner & Griess Families.
I believed his First Edition is still being sold by AHSGR , GRHS or GRHC. Visit there book stores.
Germans from Russia Heritage Socity, Heritage Review, Vol 18, No. 3, Sept. 1988, dedicated this issue to Theodore C. Wenzlaff 1903-1988 Shown here with the permission of the GRHS.
Remmick-Hubert: I've gained almost all my information from Mr. Wenzlaff about the Ochsner Family. The additional information has been from other records translated by Gerry Ott, Worms / Od. Census .& other records here in USA.
Letter from Theodore C. Wenzlaff
"Sutton
Feb. 18, 1986
Dear Judy,
The information you have given me about Theobald Ochsner was the first I have received indicating he was married and had a daughter. Perhaps they had even more children--and if they were... the information might solve many unanswered questions. For instance, Helen (Ochsner) Masirs parents were Emil Ochsner (see page 78, Pioneers) and Barbara Ochsner, daughter of Johann Ochsner and Eva Trautmann. Helen states firmly that her parents were second cousins, but she doesnot known if her grandfather Johann Ochsner was either the son of Theobald or Phillip Dieter Ochsner (pps 63 and 65 Pioneers). Oscar Ochsner...., a great-grandson of John Ochsner and Eva Trautmann, has complied a book of John Ochsner's descendants, but no where has he been able to discover who John Ochsner's father was. The descendants of John Ochsner lived mostly in South Dakota. Oscar Ochsner has given up for the name of John Ochsner's father because it has proven fruitless for him after thousands of miles travel, hoping someone might have an entry in an old Bible giving him the information.
What makes the search all the more tantalizing to Oscar is his ancestors John Ochsner lived in Worms, Russia, too. It is almost conclusive that the Ochsners in Worms were all related. John and his wife died in their children did emigrate to the United States.
No, John Ochsner did not have a daughter but there can be supposition that he had a sister by that name.
My military career started with West Point and in all I served the Army for 33 years, retiring as a colonel in 1955.
Best regards,
Ted Wenzlaff."
---
See Letter from Julie on Katherine Ochsner Griess
---
Some Surnames connected to Ochsner Family:
Aisenberg, Almy, Bachmann, Berreth, Brost, Buechler, Dockter, Edelman, Ehly, Engelhardt, Ernst, Fuehrer, Fiedler, Gries, Griess, Gross, Haisch, Hauck, Hauser, Horst, Kauk, Keiffer, Klein, Kirshenman, Lange, Lingenfelder, Mettler, Meyer [Maier], Moser, Nuss, Raisin, Rausher, Reichel, Roemmich, Schaeffer, Schock, Schoppe, Schwarz, Suess, Trautmann, Wahl, Weikum, Wenzlaff, Weiskopf, Wiest [Wuest], Wuest [Wiest], & others....
---

| | | | | | | | |
| --- | --- | --- | --- | --- | --- | --- | --- |
| | | | | | | | |
| | | Hubert Home Site | | | Borodino Home Site | | |