UPDATED: 22 April 2007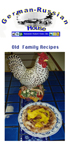 COBBLERS
Usually define as being a fruit pie without a crust with some kind of topping. I use to make this when the children were younger because it was quick to do and I didn't have to fool around making a pie crust.
A person can make this as fancy or as simple as you'd like.
.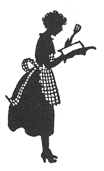 RECIPES

Recipe#1
Aunt Molly's Apple Crisp
Jana Wirch-Wright <jana_wirchwright@yahoo.com> wrote:
Date: Wed, 18 Apr 2007
Hi Judy,
I have two more recipes, much less complicated than the first one I sent....
Jan Wirch-Wright
Remmick's Note: The other recipe is Dad's Outrageously Good Popcorn Balls
***********************************************************************************************
Aunt Molly's Apple Crisp
From the Kitchen of Molly (Emilie "Molly" Franz) Miller of Kulm, ND and Seattle, Washington - b. 1899 - d 1976?
One of our family's favorite desserts!
Pre-Heat oven to 350 degrees -
You will need
2 - Mixing bowls, medium size
1 - 9"x13" baking pan (glass or metal)
A cube of butter for the dessert, plus some extra for the baking pan.
Directions:
Core and cut 5 or 6 apples into bit size chunks. Place cut apples in bowl with cold water with lemon juice to prevent browning. You do not have to peel the apples if you do not want to.
In the other mixing bowl, mix the following ingredients for the "Crumbly Mixture":
1 cup Flour
1 Cup White Sugar
3/4 tsp salt 1 tsp Baking Soda
1 egg
3/4 cup Brown Sugar
Cinnamon to taste
Mix until crumbly, set aside. Can add Nuts or coconut if desired. Reserve 1/3 of the crumbly mixture for the topping.
Dry apples with paper towels before use. Use only 2/3 of the Crumbly Mixture for the following:
In a 9" x 13" generously buttered baking pan, line with apples on the bottom of the pan.
Sprinkle with Crumbly Mixture and pats of butter, layer again (apples, Crumbly Mixture, butter) and repeat steps until the last row of apples lay on top. Cover the apples with any remaining Crumbly Mixture, including the 1/3 reserved portion. Top with 10-12 pats of butter.
Bake at 350 degrees for 45 minutes until bubbly and golden brown. Let cool and serve warm.
~~~~~~~~~~~~~~~~~~~~~~~~~~~~~~~~~~~~~~~~~~~~~~~~~~~~~~~~~~~~~
*** We serve this warm with vanilla ice cream or Cool Whip on top.... Yum!
Aunt Molly was my Grandmother's sister who was much loved by our family. This dessert always brings back wonderful memories I have while our family was visiting her in July, 1968 when we first had this dessert after dinner one night.
Jan
.
1970
4/21/2007
Hi Judy,
A clearer, more colorful picture of this part of my family...
From left to right
1. Adeline (nee Franz) Brandenburger (wearing a orange check, sleeveless dress),
2. Molly (nee Emilie Franz) Miller, (wearing a camel colored coat over and an orange dress)
3. Johanna (nee Schweikert) Franz (wearing green paisley print dress) with Johanna's husband,
4. John Franz, Jr. (my Grandmother's Brother) who is wearing a black jacketare (Adeline's Mom & Dad.)
My Grandmother's was also "Johanna Franz", but the Johanna Franz in this picture is Karl Schweikert's child. Interestingly enough, the person taking this picture is my Grandmother!
If we go by how these folks are related to me... Adeline is my second cousin, Molly is my Great Aunt, Johanna (Schweikert) Franz is my Grand Uncle's wife, and John Franz, Jr is my Grand Uncle.
Jan
****************************************************************************
Remmick's Note: I have just discovered that (great) Aunt Molly is the daughter of my grandmother's, Christine, nee Schweikert, Hein's sister, Johanna, nee Schweikert, and John Franz.
See Schweikert Genealogy: http://www.remmick.org/Schweikert.Genealogy/Page36.html and go to child #4 Johanna Schweikert m. John Franz. Adeline is Adeline and John Franz's child #2.
---
.

.

Recipe#2
Deep Dish Fruit Cobbler With A Basic Fruit Filling
Ingredients
3 1/2 to 4 cups of fresh fruit (apricots, berries, cherries, currants, grapes, peaches, pineapples, plums or rhubarb)
1/4 to 1 1/4 cups sugar
2 tbs flour or 1 tbs of cornstarch or instant tapioca mix
1/4 tsp salt
1 1/2 tbs melted butter or margarine
1 tbs milk
Add if necessary:
1. If fruit is too sweet add 2 tbs of lemon juice
2. 2 tbs water if the fruit does not seem to have enough juice.
Cook in a sauce pan until the juice has thicken. Be careful not to cook too long because the fruit will break down and you'll have more of a jam than a pie texture.
Pour into a pie plate.
Inredients for Topping:
1 cup flour
1 cup sugar
1/4 cup to 1/2 cup of soften butter or margarine
Blend to a crumb like texture and sprinkle on top of the cooked and thicken filling which has been placed in a pie plate.
Bake the cobbler in a preheated oven of 400 degrees F. and bake until topping has browned.
.
.