Last Update: 6 Sept 2002


Gresaubach / n. Lebach, Saarland, Germany

To the east of Gresaubach is Tholey which is mentioned in the travelors Blue Guide of Germany. The book tell us that Tholey was a Roman settlement called "Tegula" [tile] where a Roman bath was discovered under the Benedictine Abbey [9c] which fell victim to the French during their French Revolution. It is interesting to note that the abbey had been part of the Palatinate ownership until 1778. To the south is Lebach in the valley of the Thel.
The route from Mettlach to Saarbrucken via Tholey to Friesesn-Oberkirchen [Baden-Wuerttemberg] is known as the "Oak Tree Road" and run for 72 km ......
Lebach, which lies to the south, is mentioned because of the gothic church [12c] and the tombs of van Hagens.....
KUEHN FAMILY
Sebastian Kinn [Kuehn] b. 1707 lived in Gresaubach, Dt. Lothringen / Saarland [Germany] d. 24 Oct 1787 m. Kunigunde Braun b. 1710 d. 30 Oct 1738 Sackelhausen, dau. of Nicol Braun and Margaretha Clos *
See Sch-Bettingen / n. Lebach, Saarland where his son was born.
NOTE:
What does the Dt. Lothringen refer? It may be referring to the family of von Lothringens whos family members were Counts who lived in the Alt-Saarbruchen area. The church of St. Arnaul [14c] holds their tombs. See Lothgringen (Lorraine) (Alsace-Lorraine)
OR
Dt. Lothrigen may be referring to a village in which they migr. before reaching the Banat area......Perhaps a birth or a death occured here if they did not live here....
---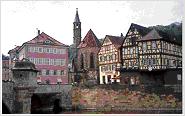 A List of Remmick and Hubert Families Migr. from to other parts of the world.
---
Perjamosch / n. Arad Banat, Austria-Hungary [Rumania]

You Are There

Hubert & Hummel

Index Page

Borodino Bess. History

Home Site

Remmick.Family.Tree

List of All the Photographs on Remmick-Hubert Web Sites