Perjamosch Family List Connected to Hubert Families
Last Update: 3 Sept 2002


Schwemlingen /n. Merzig, Saarland [Germany]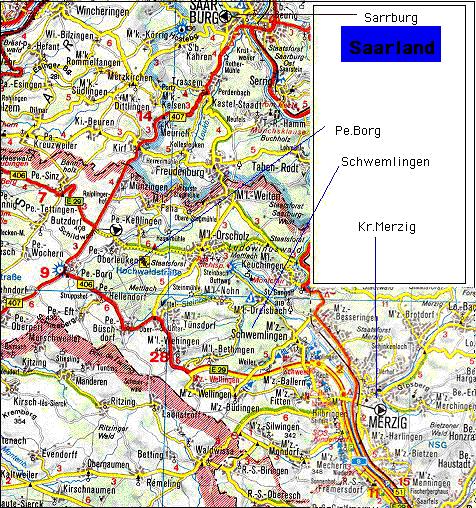 Gen. 1: Marie Sidonia Fixmer [F80.5] b. 21 Oct 1754 Schwemlingen / St. Gangolph, Pf or Schwemlingen n. Merzig, Saarland d. 27 Oct 1826 Perjamosch, dau. of Anton Fixmer and Anna Maria Steichen m. 23 June 1772 Perjamosch / n. Temesvar, Banat, Austria-Hungary to Franz Xaver Hubert [Huber] [S-PFBk H822] b. ca. 1744 d. 8 Aug 1820, son of NN and NN,,
There is a Schwemlingen n. Merzig in Saarland [Germany] which is near Borg which is near Merzig, Saarland where the older generations of the Fixemers were born. Sometimes, when a group of people migr. to another area, they name the new village after the village from which they had migr. . Perhaps there was a Schwemlingen n. St. Gangloff in Pfalz but it no longer exsists. I'll have to do more research......
See a general map of Saarland.
East of Schwemlingen is a town of Mittlach and about 3 km SW is another St. Gangolf site. Mittlach can best be seen in the map of Serrig
p. 148 in Blue Guide Germany by James Bently
---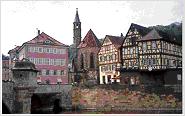 A List of Remmick and Hubert Families Migr. from to other parts of the world.
---
Perjamosch / n. Arad Banat, Austria-Hungary [Rumania]

Hubert & Hummel

Index Page

Borodino Bess. History

Home Site

Remmick.Family.Tree

List of All the Photographs on Remmick-Hubert Web Sites