Kulm, Lamour Co., North Dakota, USA, German-Russian Settlers List
Last Updated: 10 June 2003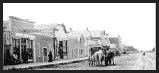 Kulm, LaMoure Co., North Dakota Genealogy of Early German-Russian Settlers from the Jubilee Book 1892-1957 continued......
A to Guthmueller.....Haase to Nylamd ..... Ogden to Zellmer
H
Haase, Martin
Haffner, Christian
Jaffner, John
Hanneld, Chris
Hanneld, Gottlieb b. 12 April 1881 S. Russia. Migr. with his parents in 1885 to Parkston, SD ...Grew-up n. Ashley, ND, m. 21 May 1905 to Mathilda Isaak.... Issue (7) listed in KBk
Harter, Carl
Hasz, Daniel
Hauff, John G.
Hausken, Olaf
Heck, Christian
Hedlund, J. A.
Hehr, David
Heidinger, Cris
Heldinger, Johannes
Heldinger, M. M.
Hein Family History
Hein, Ludwig and Christina, nee Schweikert migr. to Kulm / N. Dak.
"1910 to USA - Christina, nee Schweikert, and Ludwig Hein.left the port of Bremen and landed in Philadelphia, PA, USA. They took the train to Kulm, ND. where they began their life in American . ." wrote their granddaughter Judy A. Remmick-Hubert.
The following are a few of the web sites connected to the Hein family.
| | | | | |
| --- | --- | --- | --- | --- |
| | Hein Genealogy | Montana Memories | Borodino/Bess. S. Russia | Schweikert.Genealogy |
Herman, Rudolph J.
Herrmann, Friederick
Herrmann, Sr., Gottlieb: b. 10 Jan 1876 Beresina / Bess., S. Russia m.27 Nov 1897 to Sophia Dietrich. Migr. to USA in 1898 on the ship Kaiser Wilhlem. Issue:
Katharina Herrmann b. Beresina / Bess. S. Russia m. __ Heir
Rudolph Herrmann
Robert Herrmann b. 30 Nov 1901 m. 13 Feb 1925 to Margaret Nitschke of Jud, ND Issue:

Marjorie Herrmann m. Raymond Busch

Gottlieb Herrmann
Ida Herrmann m. Jake Hoffman
Solomon Herrmann
Herman Hermann
Melmuth Herrmann
Herrmann, Robert:
Hieb, Christoph: b. 18 Nov 1885 family farm south of Tripp, SD m.10 Sept 1909 to Emma Gackle They left Kulm in 1923 and moved to Lodi, CA Issue:
Ruth Hieb m. Ed Wuinn
Roy O. Hieb
Hieb, Edwin b. 8 June 1897 Kulm, ND, son of Michael Hieb and Margaretha Winckler, m. 24 Sept 1923 to Della Novak. Issue:
Edwin Hieb, Jr. m. Patricia Bolger Issue:
Wayne Hieb m. Patrica Brost
Robert Hieb
Hieb, Michael: b. 2 June 1857 n. Odessa, S. Russia d. Jan 1922 ND m. 1880 in SD to Margaretha Winckler . He migr. to USA in 1874 to Bon Homme County, SD then moved to Tripp, SD then to Dickey and LaMoure counties... Then to California then back to ND.. Issue:
Christoph Hieb of Lodi, CA
Edwin Hieb
Lena Hieb m. A.F. Lehr
Margaret Hieb m. ___ Meyer of Lodi,CA
Note: The Hiebs were related to Dockter-Hoffer families. See Katharina Dockter m. Adam Hieb in Hoffer Home Site
Hildebrand, Fred. G. b. 7 Feb 1867 Kulm / Od. S. Russia, son of Gottlieb Hildebrand. With his parents he migr. to Dakotas in 1879. He m. 22 Nov 1889 to Louisea Radke and they settled n. Kulm....
Hille, Fredereka m. Jacob Nill
Hille, Simon
Hillius, John b. 20 Oct 1860 Neu Elft / Bess. , S. Russia m. ______ b. 1 Oct 1860. Migr. to USA and arrived in Ellendale, ND on 27 Nov 1887. . Issue:
Bertha Hillius b. Neu Elft / Bess. , S. Russia m. Sam B. Ruud
Theodore Hillius
Otto Hillius
Hilscher, Michael
Hiom, Tom, served as village Marschal in Kulm d. Jan 1942 Missoula-Norweigan parents
Hoffer, Andrew: b. 12 Dec 1887 Depritz / Russia d. 6 July 1949 m. to ______ b. 8 Oct 1887 Glastiatz/Russia . He migr. to USA in 1902 and she migr. in 1895. See Hoffer Home Site. Issue:
Hulda Hoffer m. William Morgan
Oscar Hoffer
Edwin Hoffer
Edna Hoffer m. Jack Ellingson
Emilia Hoffer m. Reuben Hehr
Esther Hoffer m. Alvin Schlauch
Hofmeister, John b. 2 April 1879 Waverly Minn. m. 27 Sept 1909 to Martha Billigmeier b. 5 July 1892, dau. of Ludwig Billigmeier and Juliana ___ They migr. to Ingormar MT in 1914 until 1937 and moved to Forsyth, MT. Issue:
Raymond Hofmeister
Helena Hofmeister
Andrew Hofmeister
Irene Hofmeister m. Amos Smith
Holland, Clara Grosz
Holland, Joseph
Hollan, Robert
Holman, Ole A.
Hutton, Thomas
I
Irion, Gotfried
Irion, Jacob
Isaak, Christian
Isaak, Gottfried
Isaak, Gottlieb b. 16 July 1860 S. Russia and Christina ____ b. 12 Nov 1860 ... They migr. with Isaak's father Christian Isaak to USA in March of 1886 and firstr settled in Parkston, SD.... Children listed in KBk...
Isaak, John
Isaak, Mathilda m. Gottlieb Hanneld
Isaak, Nathaniel G.
Isaak, William
J
Janke, John
Jans, William
Jenner, Albert
Jenner, John J.
Jenner, Peter John: b. 1856 Worms/ Od. S. Russia d. 1928 m. 1875 to Christina Winkler d. 1933. Note: Remmick/ Oremmich famillies were from Worms.Od. and several married Winkler girls... They lmigr. to Streeter, ND Issue:
Henry Jenner of Lodi, CA
Paul Jenner of Lodi, CA
Emma Jenner m. Davenport
Katie Jenner m. Mogck
Edmund Jenner
John Jenner
Albert Jenner
Johanson, Carl Frederick
Johnson, Anton
Johnson, Carl Samuel
Johnson, John Oscar
Johnson, Jonas Peter
Johnson, Zacharias
Jonson, Bakmar
K
Keller, David
Keller, Henry
Kinzler, Fred
Kjos, Elling O.
Klettke, Reinhold
Knopp, Gottfried m. Rosina Reiman
Koenig, Peter
Konrad, David
Konrad, Joseph
Kraft : Mrs. Maria, nee Kraft, Pahl
Kreis, Fred
Kuhn, Christoph
Kuhn, Gottfried
Kurtz, peter
Kurtz Rynold and Selma
Kusler, Edward C.
Kusler, John
Kusler, Willie L.
L
Laeger, August
Laeger, Carl and Friedericka
Lange, Gottlieb: ___ poss n. Borodino / Bess. S. Russia d. 20 Oct 1913 m. 1 Dec 1886 to Louise Stehr b. poss Beresina / Bess. S. Russia b. d. 7 Dec 1940 Burbank, CA [See Stehr Home Site] Issue:
William Lange b. n. Mound City, SD
Gertha Lange b. n. Mound City, SD
Edith Lange b. n. Mound City, SD
Robert Lange b. n. Mound City, SD
Oscar Lange b. n. Kulm, ND
Hulda Lange
Richard Lange
Anna Lange
infant boy
Lange, Oscar
Lange, William F.
Larsen, Fred. H.
Larsen, James
Larsen, Nels
Larsen, Bernt
Larson, Elmer
Larson, Erick A.
Larson, Gustav
Lemke, Adam
Lindblom, Anders
Lingren, Anton
Lindgren, Carl J.
Lingren, Jacob
Lindgren, N. C.
Lindgren, Oscar
Lindgren, Peter
Lundgren, Signar
Lundstrom, Peter
M
Malin, Asa B
Malm, Daniel
Malm, Otto
Melicher, John b. 18 Aug 1867 Chicago, Ill. Migr. to Kulm and m. Jary Fiel. Issue (4): Listed in KBk
Miller, Gottlieb b. 7 June 1880 Mansberg, Russia m. 15 May 1899 to ______ b. 19 Aug 1879 Tripp, SD Issue (2): listed in KBk
Miller, John H.
Mogck,Christian
Mogck, Chris B.
Montangey, George Risley
Mueller, Albert
Mueller, John b. 1857 Kulm, Od. S. Russia m. Minnie _______ Migr. to USA in 1886. Issue: (10)
Mathilda Mueller m. Siewert
Nathaniel Mueller of Ashley, ND
Lydia Mueller m. Jenner
Martha Mueller
Gust Mueller of Lodi, CA
Others not listed in KBk.
Mund, Gotthilf
Mundt, Jacob G.
N
Netz, Daniel b. 26 Aug 1868 Neu-Elft /Bess. S. Russia , Migr. to USA in 1888 m. June of 1888 to Maria Keller b. Neu-Elft / Bess. Russia. Issue (13): listed in KBk
Nill, Mrs. Chris
Nill, Georg b. 28 May 1882 Beresina/ Bess., S. Russia Migr. to USA in 1897.....m. 29 Jan 1905 to Karolena Lemke. Issue(4)
Nill, Jacob b. 5 June 1864 Beresina, Bess., S. Russia m. 1887 to Frederika Hille. Issue (4) listed KBk
Nilsen, Andreas
Norden, Anton
Norden, Carl
Nordstrom, Eva
Noren, Zacharias
Norgren, Anton
Nyland, Gustav C. : b. Toten, Norway where he married and had one son John. Migr. to USA in 1884. His wife died in 1921. He died at the age of 86.