1910 to USA - Christina, nee Schweikert, and Ludwig Hein.left the port of Bremen and landed in Philadelphia, PA, USA. They took the train to Kulm, ND. where they began their life in American . . They left Russia on the train for Germany. The following is taken from a taped conversation with Christine 68 years later, March 1973.

"When Ludwig and I left in early March of 1910 we told everyone, friends and authorities, that we would return after a long over due honeymoon trip to the USA."

"I didn't want to go to America. Chris and John talked us into going."

[Chris was Ludwig's younger brother and John was her younger brother. They would join their adventure to USA. Also with them was their daughter, Magdalena, age four]

"We left for America from Borodino on March 27, 1910. " Traveled by train from Russia to Germany."

"We spent 10 days in Bremen, Germany on the Weser River where they booked passage aboard a ship with the help of Ludwig's friend." "The man's name was Marbach." " This family owned a shipping company." "The name of the ship was Mein [Main]"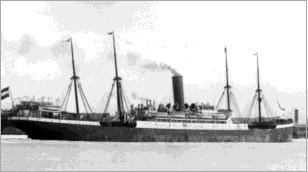 SS Main
[See ships: "M" for history of Main: http://www.fortunecity.com/littleitaly/amalfi/13/ships.htm
"...spent 13 days crossing the Atlantic Ocean after leaving a port in England..."
note: According to other family stories Christina suffered from what she thought was seasickness from the moment she set foot on the ship until she landed in the USA. She was to discover she was pregnant with Frederick who'd be born 24 Oct 1910. There were other stories about their travel. They didn't travel in steerage nor second class but first class and the crew treated Maggie [Magdalena], who was four, like she were a princess. A story she often repeated.
"They no longer had first class, however, the Captain gave us his cabin and everyone treated us like royality," explained Christina.
Landed in Philadelphia, PA, USA [6 May 1910]
"From Philadelphia we went to Chicago. We had to wait for a train west. Having a day to wait we went sight seeing. Someone gave me some bananas and we thought they were funny looking melons and we didn't think they tasted nearly as good as our Russian melons."
The conversation side tracked to the subject of melons and the seeds she had brought with her to the USA to plant. Which she had. Only they cross pollinated with another version of American melon and ended up tasting twice as good.
"Ludwig bought some ice cream cones because everyone else was eating it. But didn't like it and threw it away. Years later, especially when it was hot, I would often think about the ice cream in Chicago...by then I had acquired a keen taste for ice cream which helped a person to get cool...."
"From Chicago we went to Oaks, N. Dakota. There we had to wait until Monday for the train to Elendale. It was terrible little depot full of lice. The other people, " [who were also waiting, " and all of us became infected with lice."
"...Monday we went to Elendale...to Forbes where we caught a ride with the Kessel family who took us to my uncle Christian Schweikert's farm."
They would settle, for a time, in Kulm, ND, USA
See Homestead Act : ftp://ftp.rootsweb.com/pub/usgenweb/sd/govt/docs/homestead.txt
Ludwig and Christine would move several times during the years. One of their ranches was near Sidney, MT.
Picture taken ca. 1940 near Sidney, MT, USA on the Hein ranch.
In 1942 they would retire from ranching in Montana and moved to Lodi, California.