Last Updated: 24 June 2002

Moersfeld / Donnersbergkreis / Rhineland-Pfalz, Germany
[Moersfeld/ Kirschheimbolanden, Bavaria (Bayern)]
[Moersfeld/Kirscheim, Palatinate (Pfalz)]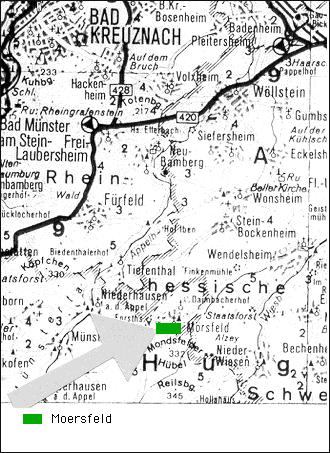 Johann Philipp Pfaff b. 21 Sept 1733 Imsbach moved to Moersfeld where he married Maria Engel Closs who was b. abt 1734, dau. of Johannes Closs and Anna Elisabeth, nee Orscheid, of Moersfeld.
Maria Engel, nee Closs, Pfaff's parents were married in Moersfeld 28 Jan 1691. They were Hans Wendel Closs and Gertraut Pfannkuchen who was born in Moersfeld on the 27th of April 1673. She was the daughter of Doroetha and Johann Jost Pfannkuchen. See Closs Family
Johann and Maria's thrid son, our ancestor, was Johan Michael Pfaff b. 28 August 1766 at Morsfeld/Kircheimbolanden d. bef 1833 poss. in or near Freudental Od. S. Russia, m. Sybilla _____ , bef. 1798
All the children of Johann and Sybilla were born in Banat area of Austria-Hungary accept their seventh child, our ancestor, Johann Philipp Pfaff, b. 5 September 1809 [?1817 ] in Freudental/ Odessa, S. Russia d. 5 Aug 1848 m.(1) Anna Maria Weber m. (2) Juliana Koschel b. 16 Nov 1820, dau. of Georg Jacob Koschel and Anna Maria Weber. It was his second wife whom is our ancestor.