Hubert & Hummel Genealogy: Noreweigan Ancestors: Johansenliving near Sandefjord/Oslo, Norway
Last Updated: 13 March 2006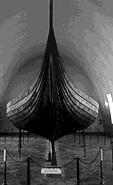 Johansen Family continued
....Sandefjord / Oslo, Norway - A Brief History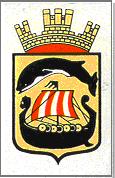 DATES:
Town takes it's name from the fjord which cuts from the outer Oslofjord 6 miles into the foot of a mighty moraine, which is the Ice Age barrier...
Was known as Sandefjord Bad - A fashionable place for summer vacation with it's bungalows and cottages where one took the waters for ones health
Once an old whaling village
Has 37 miles of coastline and pleasant bathing beaches
Oslo is 15 miles north
History of the village dates back to the middle ages
The royal grounds of the Gokstad Viking Ship was found about 2 miles east of the centre of town in 1880 [according to the town's flyer]

According to a book about Vikings, the ship was found in before 18542 and were excavated in 1852
A great deal was lost to treasure seekers
It may be that these were burial mounds [about seven together], the Gokstad and the Oseberg [see below], might be of Garry Hubert's ancestors/and/or relatives. See family of Myksvoll who are descendants of Harold I "the Fairhaired"s . The royal person buried with Gokstad is possibly the great grandfather of Harold I "Fairhaired, Halfdan "the Black". The other mound may be that of Halfdan's father King Eystein
Area is right near the Engebritsen coast land and they donated a part of it for the national park which, protects these burial mounds.

The present owners if Engebritsen land are Garry Hubert's third cousin Peter Dorsett and his wife Kris

Mounds date back to 9th century

The beautiful fountain by Sandefjord's Guest Harbour [shown below] is in memory of the time when this town was a whaling village. Many of these whalers were Engebritsens, including Johan Johansen Engebritsen who migrated to the USA and took up the name John Johansen. Several of his brothers died in accidents while fishing the Baltic Sea....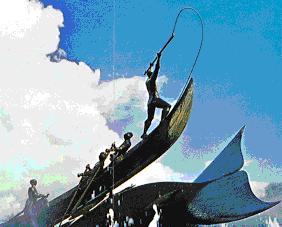 Fountain Is In Memory Of The Whalers in Sandefjord's Past

Just to the south of the Gokstad burial mound was found the Oseberg Royal Barge [ship].
Might be the burial ship of Queen Asa who was Halfdan "the Blacks's" second wife and step-mother to King Harold I "the Fairhaired"

This ship and the Gokstad are on display in the Viking Ship Hall at Bydoy in Oslo
Thumbnail Photographs
Sandefjord 1864

Sandar, the Lutheran Church where Johan Johansen's family atttended. Near it is the graveyard where his ancestors are buried.

Click on Photographs

and

you will see te large photographs

In Memory of the Whalers who

sailed out of this and all harbours.

"Sunrise", Sandefjord, Canon Power Shot

Photo by Are Karlsen

Ariel View of Sandefjord in 1990

Coast Line in Front of Langeby Farm House, which is slightly west and south of Sandejford,

where Johan Johansen was born in 1890.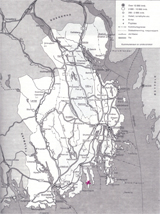 Vestfold
Maps of Oslo Area

Remmick.Home.Site

Hubert Index

Page

Hubert Viking Index

Borodino.Home.Site