Jacob Roemmich [Remmick]
Jacob and Magdalena, nee Fischer, Remmick [Roemmich]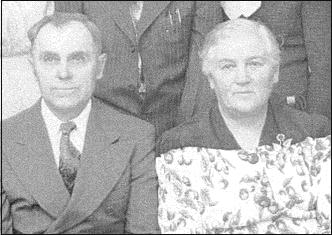 Jacob and Magdalena, nee Fischer, Remmick [Roemmich] later in life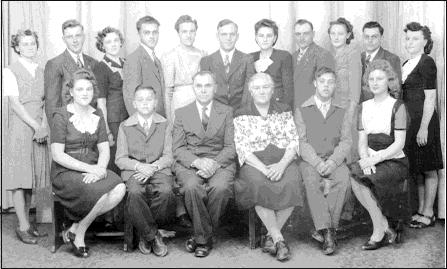 The Jacob Remmich Family
Back row (l to r): Martha, Elvin, Amalia, Rinhardt, Minnie, Edward, Irene, George, Elsie, Ervin and Alma
Front row: Orlean, Leslie, Jacob Roemmich (father) and Magdalena, nee Fischer , Roemmich (mother), Arnold and Erna (Jean)
1956 - 50th Wedding Anversary, Parkrose, Portland, OR
Photographs from Les Remmick's Collection
Jakob Roemmich b. 14 March 1881, Worm, Od., S. Russia d. 25 April 1963 m. 21 May 1906 to Magdalena Fischer b. 11 Nov. 1889 d. 19 April 1959, dau. of Gottlieb Fischer and Magdalena Aldinger, R-75 Note: "...the spelling of the last part of the name, some were spelled 'ick' ae were 'ich', it all depended on how it appeared on each birth certificate." Jakob migr. from Worms / Od. S. Russia in June 1901. He worked on farms near Wishek. The wages were $150 a year. Later he went to Jmestown and was employed for the railroad. He filed on his homestead in Germania Township in 1905. He was on the school board and was an assessor for 17 years. He retired from farming in 1941 and moved to Streeter, ND...Issue:
Edward Remmick [set] b. 13 Oct 1906 Streeter. ND, USA d. 8 July 1992 Portland, Multnomah County, OR, USA m. 3 Oct 1930 Jamestown, ND to Regina Knodel. b. 6 June 1912 Streeter, ND, dau. of Jacob Knodel and Christina Fanrich, R-84, let #30. Issue:

Douglas Remmich
DeElda Remmmich
DeEtta Remmich
Delton Remmich
Delaine Remmich .

Martha Remmich b. 10 Aug 1908 d. 18 May 1999 m. Kelle
Ted Remmich b. 24 Nov 1909 d. 25 Feb 1914
Amalia Remmich m. Decker
Minnie Remmick b. 16 Aug 1912 d. 12 June 1980 m. Edgar Aldinger.
Alma Remmich m. Pigg
Elvin Remmick
George Remick b. 27 Feb 1917 d. 10 May 1991
Elsie Remmich b. 17 Sept 1918 d. 23 Feb 1993 m. Brooks
Rinhard Remmick b. 9 April 1920 d. 4 Feb 1971
Ervin Remmich m. (1) Joann Weber [div] m. (2) Norlene Miller [div]
Irene Remmich m. Kenneth Weston b. 7 July 1910 d. 7 Feb 1971
Erna (Jean) Remmich m. Wolfe
Orlean Remmich m. Timmen
Arnold Remmich b. 19 Jan 1930 d. 4 July 1997
Leslie Remmick [Remmich / informat of this family , R-75]
Eva Roemmich b. 6 May 1879 Worms/ Oddessa Dist., Kherson Prov., S. Russia d. 15 Jan 1966 Bismarck / Burleigh Co., ND, USA m. Jan 1901 to Jacob Frank b. 19 Oct 1880 Worms/ Od., S. Russia d. 4 Dec 1949 Bismarck / Burleigh Co., ND, USA, son of Peter Frank (b. 2 Feb 1843 Worms/ Od. S. RWisshek / ND, USA) and Elizabeth Sauter (b. 2 Jan 1847 d. 27 July 1919 Wishek / ND, USA) (Source: Horst.) Issue:
Peter Frank b. 10 Dec 1901Worms/ Od. d. 1 Sept 1999 Napoleon / Logan Co., ND, USA
Sophia Frank abt 1904
Henry Frank b. 1905
Jacob W. Frank b. 1906
Franz Frank b. 2 Feb 1907 d. 18 Nov 1986 Wishek / McIntosh Co., ND, USA m. 1929 to Anna Gunsch b. 9 April 1910 Wishe / McIntosch Co., ND, USA d. 1999
Frederick Frank b. 1909 Township Hills, Logan Co., ND, USA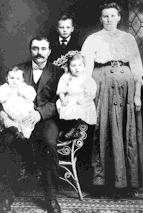 Peter Roemmich b. 30 July 1887 Worms, Od. 23 March 1942 Tappen / Kidder Co., ND, USA m. Oct 1907 to Sophia . Roemmich, dau. of Jacob Roemmich and Katharina Mauch b. 10 March 1890 Worms , Od. d. 4 Oct 1963 Tappen, ND, USA. Issue (More detail see Sophia's section) In the death annouecement of Sophia in the Napoleon, ND News we learn the following: Sophia and Peter farmed in Kidder County south of Tappen from Oct 1907 to 1936 when they moved to Tappen. Mr. Roemmich died in 1942. / Surviving are seven children (when the article was written 9 Oct 1963), Mrs. Fred Schmidt, Crystal Springs, Mrs. John Pfaff, Mrs. Walter Hust, Emil oemmich, and Mrms Simon Pfaff Jr., all of Tappen, Edmund of Dawson, and Mrs. Harlan Fuller, Criscoll; 30 grandchildren; ten geat-grandshildren; two brothers, Peer of Jamestown and George of Napoleon.
Jacob Roemmich
Ida Roemmich m. Fred. Smith
Alvina Roemmich m. John Pfaff
Edmund Roemmich m. Emma Silzle, who became a widow in the 1970s and m. (2) Oscar Diede. Issue m. (1):

Donna Roemmich m. Teske
Miles Roemmich
Clifford Roemmich
James Roemmich
Kenneth Roemmich

Martha Roemmich m. Walter Hust
Amelia Roemmich m. (1) Gustav Reidinger b. 4 June 1920 Tappen, ND m.. (2) Harlan Fuller. , R-63, Issue:

m. (1) Issue:
Victor Redinger
m. (2) Issue:
Debara Fuller

Emil Roemmich b. 1 April 1922 Streeter, ND, USA d. 20 Nov 2010 m. 8 Oct 1940 to Bertha Pfaff

Article in the Jamestown Su, D.D., Monday, November 22, 2010: >>Emil R. Roemmich, 88 , Jamesmtown, died Saturday, Nov 20, 2010, at his home. / Mr. Roemmich was born April 1, 1922, in Streeter, N.D., the son of Peter and Sohie (Remmick) Roemmich. He received his education in rurual Tappen, N.D., schools. He entered the Civilian Conservation Corps for a short time. He married Bertha Pfaff on Oct., 8, 1940, in Steele, N.D. They farmed south of Tappen until 1957 when they moved into Tappen. He drove semi for Enziminger Trucking, Tappen. They moved to Jamestown in 1972. He worked at Dakota Block. He alwo worked for Haybusters Manufacturing. He wa a member of the EUB Metodist Church, Tappen, where he sang in the choir and quartet. They later joined Paul's United Medhodist Church, Jamestown. He enjoyed playing guitar, gardening, feeding birds and woodworking. / He is survived by his wife, three sons, Thilmer (Susan) and Darold (Leonora), both Jamestown, and Marvin (Karen), Eldridge, ND; two daughtesrs, Violet Moreland and Viona (David) Gienger, both Jamestown; a sister, Amelia Fuller, Bismarck, N.D.; 19 grandchildren, 44 great grandchildren; and six great-great granchildren. / He was preceeded in death by his parents, two brothers, four sisters and a great-grandson, J.D. / Serviced: 10:30 Tuestday, St. Pauls United Metodist Church, Jamestown, with the Rev. David Bambas officiating....<<

Hertha Roemmich m. Simon Pfaff, Jr.