Katherina [Catherina] Hein
b. 13 Dec 1867 Heim Chutor, S. Russia m. the widower Jacob Ruf[f]
1955
m. 22 Dec 1888 in Kloestitz to

Jacob Ruf[f]
b. 6 Dec 1856 Borodino / Bess. S. Russia [Recorded birth in both Borodino and NeuElft / Bess.: son of Gottfried Ruff and Rosina Quast, #1884103/2 442 89 born in Neu Elft / Bess. and recorded on the 17 of Dec 1856 in Borodino...]
d. 8 Aug 1918 Kulm, ND, USA buried Marsh Cemetery 11 Aug 1918 grave #3
This was his second marriage His first marriage was on 12 July 1879 Kloetitz / Bess. [#1895629 / 1 541 5] to Katharina Weippert. Their dau. Katherina Ruff remained in Russia with her mother's parents..
Katharina and Jacob migr. from Borodino in 1911 to Germany, sailed from Bremen on the S.S. Main to Baltimore, Maryland landed abt 10 April 1911 to Ashley, ND abt 13 April 1911 then In Oct 1911 the family moved to Marsh, MT, USA
S.S. Main the same ship Christine's brother Ludwig Hein had sailed later with his family.
Ruff Family History: Family migr. from Dobel / Calw, Wu and migr. to Kulm/ Pol then went on to Borodino / Bess. S. Russia ... abt 1814....
See MARSH BOOK
Issue:
John [Johannes] Ruff b. 11 Dec 1889 Borodino / Bess. SA. Russia d. 29 Oct 1929 Glendive, MT Glendive Hospital, MT m. 31 Dec. 1914 to Christina Kosel, dau. of Johan Kosel and Christna Kessel, b. 13 Oct 1890 Ashlely, ND d. 27 May 1966 Hayward, CA, USA . In the Marsh MT book pps. 259-61.... Christina mentioned, "Clothes were washed in a galvanized tub by rubbing them on a coragated wash board with home made soap, rinsed in another tub and hung outdoors on clothes lines to dry, even during winter freezing weather." "School clothes were never used for play and we changed into our work clothes as soon as we got home from school."Issue:

Emily Ruff m. Harold Stone d. 1970 (Div) m. (2) Edgar Brown d. 1989. Emily wrote in the Marsh Book p. 259 about her family. Issue by first marriage were:

Darlene Stone
Bill Stone
Sharon Stone
Terry Stone

Gottfred Ruff b. 19 Aug 1917 d. 10 May 1993 m. Dorotha Ault d. 1993
Edward Ruff killed 17 June 1952 at the Union Hall, San Francisco, CA
Marie (Mary) Ruff m. Francis Sousa Issue:

Lynda Sousa
Francis Sousa II

Olga Ruff m. Steve Glaros Issue:

Katherine Glaros
John Glaros d. 1966

Daniel "Barney" Ruff m. Emma Sierra Issue:

Nancy Ruff
Janet Ruff
Gary Ruff
Daniel Ruff
Terry Ruff
Gilbert Ruff

Magdalena Ruff m. Ralph Horst d. 1973 Issue:

Christina Ruff b. 31 July 1891 Borodino / Bess., S.Russia.. She m. 22 Feb. 1912 to John Krenzler. b. Glueckstal / Od. S. Russia He migr. from Glueckstal/Od., S. Russia to Ellis Island.... After their marriage they lived on Fallon Flat and held ownership to two adjacent sections of land... Their daughter, Bernice, nee Krenzler, Davis wrote: "They raised horses and cattle in the early years and in the later years corn and wheat." on p. 193 Marsh Book.. See larger wedding photo plus group pictures

Christina , nee Ruff, and John Kraenzler
Issue: [corrections of last names: 31 March 2003]
John Jacob Krenzler m. Dorothy Mae Bivens. Issue:

John Krenzler
Frederick Krenzler I m. Catherine E. Dove. Issue:

Paul Krenzler
Richard Krenzler
Frederick Krenzler II m. ____ Issue:

Frederick Krenzler III
Thomas Krenzler

Martha Krenzler m. Peter Loose

Kathy Loose [informant] m. Clifford Joseph Barnes III

Hilda [Hulda] Christine Krenzler m. _____ Baldani,
Bernard Daniel Krenzler m. Dorothy Humes. Issue:

Karen Krenzler m. David McVay Issue:

David McVay, Jr m. Tami Allen
Laura McVay m. Erik Schroeter Issue:

Megan Schroeter
Erik Schroeter, Jr.

Matthew McVay

Bernard Krenzler, Jr. m. Shirley Henry. Issue:

Danielle Krenzler
Brian Krenzler
Kevin Krenzler

Eileen Krenzler m. Davi Marra Issue:
Katherine Krenzler m. George Mazzo Issue:

Thomas Mazzo
Cheryl Thomas

Mary Magdalena Krenzler
Bernice Gertrude Krenzler m. Robert Davis . Bernice wrote in the Marsh Book pps. 193-94 "Our mode of travel to school was by horse and buggy."; and, "...remember the tradition of real candles on our huge church Christmas Tree....":Issue.

Tonya Davis m. Eddie Padilla Issue:

Misty Padilla
Heather Padilla

Devoron Davis m. Charles Hill Issue:
Harry Davis m. Gerri Carlson
Gary Davis m. ___ Issue:

Christopher Davis
Amanda Davis
Gary Davis m. ___ Issue:

Brandon Davis
Steven Davis
Jenifer Davis

Christina Davis m. ___ Issue:
Brian Davis

Note:See Kranzler Family Genealogy back to an ancestor born in the year ......1475

Marie [Mary] Ruff b. 20 March 1893 Borodino / Bess. S. Russia d. 24 Oct 1968 Glendive, MT, USAl m. (1) 26 Jan 1914 Hoyt, MT to Jacob Gaub, son of Joseph Gaub, b. 19 Nov 1887 Glueckstal / Od, S, Russia d. 1935 bur. Marsch, MT, USA , son of Joseph and Caroline Gaub.

........Maria Ruff
...... ...................Maria, nee Ruff, & husband Jacob Gaub
Issue [See Children families in detail] were:
Magdalena Gaub b. 1916
Bertha Gaub b. 1918 m. Taron
Mary Gaub m. Horning
Fred. Gaub
John Gaub b. 1924
Martha Gaub m. Sheppherd [sic]
Bernhardt Gaub
Hulda Gaub m. Herman
Emma Gaub m. Grebeldinger
Arthur Gaub
Elsie Gaub m. McMahon

Friedrich Ruff [twin] b. 4 Jan 1895 d. 21 Mach 1895 Borodino / Bess.
Daniel Ruff [twin] b. 4 Jan 1895 d. 13 Jan 1899 Borodino / Bess.
Magdalena Ruff b. 17 June 1896 Borodino / Bess. d. Lodi, CA, USA m. (1) 8 Nov 1914 to Conrad Gehnert, son of Heinrich Gehnert and Caroline Neubauer b. 18 May 1890 Wittenberg / Bess. S. Russia d. 13 Oct 1918 French Camp n. Lodi, CA, USA ; m. (2) 24 Jan 1919 John J. Beuchler; m. (3) 8 May 1920 to Gustav Pede

Magdalena Ruff
Issue by first marriage:

Jacob H. Gehnert b. 5 Dec 1915 d. 22 Dec 1915
Olga Pede b. 27 Sept 1917 m. (1) Odiel Vuylsteke (Div); m. (2) John H. Husebye (Div); m. (3) Gus. Schmeirer of Lodi, CA d. March 1987 Issue:

Issue m. (1)
Issue m. (2)
Issue m. (3)

Gehnert family history has been traced back to Ofterdingen [S. of Tuebingen] which is the Necker Valley in Wu., Germany where they lived as early as 1530. They migr. to Warsaw, Poland then to Wittenberg / Bessarabia, S. Russia. Infomration is from pps 20 - 25 in the booklet MARSH, MONTANA, Remembering the Yesteryears 1910-1997 by the Marsch, Montana Historians.....
Issue by second marriage:

L. [Lydia] Dorothy Buechler m. Miller

Issue by third marriage:

Gustav Pede b. 12 March 1924 d. 1 Feb 1984
Daniel Pede
Rose Pede m. Winder
Ruth Pede m. Webb

Sophia Ruff b. 6 Aug 1898 . Borodino / Bess. d. 13 Jan 1981, buried 16 Jan 1981 Marsh, MT m. (1) to Karl Ulrich, m. (2) Karl Koenig [he had been married before and had a dau. Florence m. Jack Witt.], m. (3) widower Fred. Schmidt, [who had four children by his first wife]

Sophia Ruff
Issue by first marriage were:

Albert Ulrich
Oscar Ulrich
Martha Ulrich m. Albert Brost d. bef. 1973

Martha Ulrich Brost wrote p. 105 -111 in the Marsh Book: "My father's brothers and sisters were Adolph, Otto, Rudolph, Emilie and Katie." Martha would recall stories of her relatives. One of those stories was about her mother's brother, John Ruff: ""Now he was a character. He brewed the best whiskey out in the boondocks." "Uncle Hans, " [John], "lived 26 miles out in the Badlands. One time coming home a Mountain Lion attcked him! His dogs saved his life, but one dog died.".

Edward Ulrich

Issue by second marriage was:

Rosie Koenig m. (1) Leland McMorris; m. (2) Melvin Jacobs d. 1981

Issue by first marriage were:
Ronald McMorris
Linda McMorris m. Wright
Dawn McMorris m. Allison
Roger McMorris
Issue by second marriage was:
Shonna Jacobs

Issue by third marriage was:
Johan and Kath. , nee Hein, Ruff migr. in 1905 to ND then Marsh, Montana, USA. Both were born in Borodino. His ancestors migr. in 1814 to Borodino from Dobel / Calw-Wuerttemberg [Germany]. He had six children by his first marriage and six children by his second wife, Kath...
This is a photgraph of Christina, nee Ruff's, and John Kraenzler's wedding. Photograph taken by Evelyn Cameron n. Marsh, MT. USA in 1912. Her parents Jacob and Catharina, nee Hein, Ruff are seated in front of the newly weds. Next to them are Johan Kranzler's parents. The Kranzlers family migr. from Glueckstal/Od, S. Russia.
Top row: unknown.
Second row left to right: Sophia, Maggie, Marie, John Ruff , boy in front with hat, unknown, seated is Jacob Ruff, Katherine, nee, Hein, Ruff , Lydia Kriez, Chrstina Ruff, baby, Jacob Kranzler, Edward Keiz, Wilhlem Kiez, Christia Kriesz, Carle.....
Front row: unknown
Many of Evelyn Cameron's photographs are found in : PHOTOGRAPHING MONTANA 1894 - 1928, The Life and Work of Evelyn Cameron by Donna M. Lucey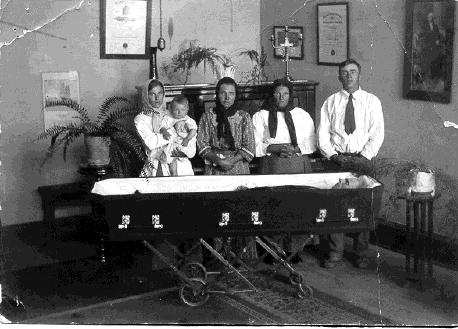 Jacob Ruff died 8 Aug. 1918 at the age of 61 on the farm near Marsh , Mt. USA
Wife, Catharina, nee Hein, Ruff is second from right with her son to viewer's right and two daughters and a grandchild to viewer's left
Ruff, Jacob 22 Nov 1853 Katzbach Gottfried Karolina Woltmann 1883189/1 210 52

Ruff, Jacob 6 Dec 1856 Borodino [son of] Gottfried Quast, Rosina 1884103/2 442 89 born in Neu Elft

Ruff, Jacob 27 Apr 1858 Borodino Jacob Nawer, Katharina 1884105/2 362 37

Ruff, Jacob 6 May 1851 Borodino Johann Ruff Grabow, Magdalena 1883181/1 294 29 1846 marriage lists maiden name Gr

Ruff, Jacob 22 Nov 1853 Katzbach Gottfried Woltmann, Karolina 1883189/1 210 52

Ruff, Jakob 26 Sep 1852 Wittenberg Jakob Mueller, Anna Maria 1883185/1 249 43

Ruff, Jakob 17 Dec 1856 Neu Elft Gottfried Quast, Rosina 1884103/2 548 40 from Borodino