Radziwill Family
Last Updated: June 2007
Hein family continues....
Radziwill Family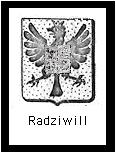 Christina, nee Stehr [Stoehr], Hein used the sale of wine money to buy each year something new, such as china, or add a room, or in this particular case, Christina hired a local wood craftsman to carve a bed head board that held her husband's grandmother's, Princess [Fuersten]. Julia , nee Radziwill, Hein's, coat-of-arms with the large letters of WGW. This was the coat-of-arms of the nobel house of Radziwill of Poland, which translates into English as "What God Will".
I assume our Radziwill ancestors fall somewhere under the branch known as the "Heretics" of Birze [Birzane] and Dubinki [Calvinist Line]..
The "somewhere" on the Radziwill branch is the only question. We are probably des. of Wolischund and Nicholas V Radziwill (1512-1584), who's sister was Barbara (1520-15551), Queen of Poland and Grand Duchess of Lithuania and married King Sigismund Augustus of Poland.
Woischund Radziwill (d. 1413)
(1) Nicholas I Radziwill (1366-1466)

Nicholas II Radziwill (1) Prisuc "Methuselah Radziwill (1398-1509), Voivode of Vilna and Chancellor of the Grand Duchy of Lithuania

Nicholas III (1470-1522), Amor Poloniae. Received title of Prince of Goniadz and Medely from Emperor Maximilian, 1518

John III Radziwill (? - 1542)
Stanislas I ( d. 1531), Starost of Uspole
Nicholas IV (d. 1546), Bishop of Samaiten

Sophie Radziwill (? - 1472) m. Bathory, grandmother of King Stephen Bathory
John (Jan) II "The Bearded" Radziwill (1474-1542)

Nicholas VI "The Black" Radziwill (1515-1569), Voivorde of Vilna, Prince of the Holy Roman Empire, Princes of Nesvizh and Olyka

Nicholas VIII Christopher "Sierotka" (The Little Orphan) Radziwill(1549-1616), Volvode of Vilna, first Lord of Nesvizh Manor [Estate]

Christoph Nicholas Radziwill (1590-1607)
John Georg Radziwill(1588-1625), President of the Tribunal
Albert III Ladislas Radziwill (1589-1636), Castellan of Vilna
Sigismundus Karl Radziwill (1591-1642), Voivode of Nowogrodek
Alexander Ludwig (1594-1634), Voivode of Polozk

Michael Casimir Radziwill (1625-1680), Great Chamberlain and Field Hetman , Lord of Nesvizh and Olyka, m. Katharina [sister of King Jan III Sobieski)

Nicholas XV Francis Radziwill (1659-1672)
Boguslav Radziwill (1662-1675
George VIII Joseph Radziwill (1668-1688), Voivode of Trakai
Karol [Carol] I Stanislas Radziwill (1669-1719), Great Chancellor of Lithuania

Michael Casimir "Rybenku" Radziwill (1702-1762), Great Hetman of Lithunaia, Vovode of Vilna m. Franziska Ursual ("Sappho of Nesvizh")

Nicholas Christopher Radziwill (1727-1729)
Janusz Radziwill (1734-1750)
Karol [Carol] II Stanislas "Panie Kochanku" Radziwill (1734-1790), Voivode of Vilna
Hieronymus Radziwill (1755-1787) m. Sophie Thurn and Taxis ("Jewel of Regensburg")

Dominik Radziwill (1786-1813), Colonel in Comnmand of his own calvarly regiment, died fighting in Napoleon's Army

Hieronymus Florian Radziwill (1717-1760 ("Berserker of the family")

Dominik Radziwill (1643-1697), Great Chancellor of Lithuania, Lord of Klezk

John XVII Nicholas Radziwill (1681-1729), Voviode of Nowpgrodek

Niholas Joseph Radziwill (1736-1788), Voivode of Trakai
Anton Radziwill (1741-1778), Cleric
Jacob Radziwill (1748-1808)
Dominik Radziwill (1747-1803)
Michal Radziwill (1744-1831), Last Voivode of Vilna m. "Beautiful" Helena ___

Ludwike Nicholas Radziwill (1773-1830)

Leon Radziwill (1808 - ?), Adjunat General In Russian Army

Anton Henry Radziwill (1776-1833), Stadholder of the Grand Duchy of Posnan and composer m. 1796 to Luise of Prussia

Michal IV Anton Radziwill (1687-1721), Lord High Steward of Lithunia

Leon Michael Radziwill (1722-1751)

Maciej Radziwill (1749-1821), Castellan of Vilna and composer

Nicholas XX Faustyn Radziwill (1688-1746), Voivode of Nowogrodek

Udalryk Christoph Radziwill (1712-1770), Equerry of the Grand Duchy; author of "The Elepahnt"
Albert VI Radziwill (1712-1762), Starost of Rzczyce
Georg IX Radziwill (1721-1754), Voivode of Nowogrodek
Stanislas Radziwill (1722-1768), Lord High Steward of Lithunia

Stanislas II "The Pious" Radziwill (1559-1599), Starost of Samaliten, first Lord of Olyka Estate

Albert IV Stanislas Radziwill (1595-1656), Great Chancellor of Lithuania

Albert Radziwill (1558-1592)"The Justinian" of Lithuania, frist Lord of Klezk Estate, Great Marschal of Lithuania
George (Jerzy, Jarig) Radziwill (1556-1600), The Cardinal

John IV Radziwill (1516-1551

Anna Radziwill (1476-1522), Regent of Masovia "Interable Woman"
Albert Radziwill (1478-1512), Bishop of Vilna
Georg Victor"Hercules" Radziwill (1480-1541) Great Hetman of Lithuania, Calvinist Line of Birze and Dubink

Nicholas V Radziwill "The Red" (1512-1584), Great Chancellor and Great Hetman of Lithuania, Prince of the Holy Roman Empire

Nicholas VII Radziwill (1546-1589)

Georg IV Radziwill (1578-1613)

Christopher I Nicholas Radziwill (1547-1603), "The Lightning Bolt", Great Hetman of Lithuania, Castellan of Trakai

Janusz VI Radziwill (1579-1620) m. Sophie von Hohenzollern, dau. of Johann George, Elector of Brandenburg

Boguslav Radziwill (1620-1669) m. Anna Maria Radziwill *, (d. 1667) dau. of Janusz XI (1612-1655)

Ludwike Karolina ** (1667-1695) m. (1) Ludwig von Hohenzollern; m. (2) Karl Philipp, Prince of Neuburg

Christoph II Radziwill "The Orphan"

Janusz XI Radziwill (1612-1655), Great Hetman of Lithuania and Voivode of Vilna

Anna Maria Radziwill * (d. 1667)

Ludwike Karolina Radziwill ** (1667-1695) m. (1) Ludwig von Hohenzollern; m. (2) Karl Philipp, Prince of Neuburg

Barbara Radziwill "Queen of Pol."m. (1) Palat. Stanislas Gasztold of Troki; m. (2) King Sigismund II Augustua of Poland

(2) John I Radziwill (1405- ?)
(3) Peter I Radziwill (? - 1500), Chamberlain of the Grand Duchy of Lithuania
When King Sigismund II Augustus of Poland died, he left no heirs. His sister Elisabeth m. John I von Zapolya, who proclaimed himself king by the diet at Szekesfehervar and was crowned King of Hungary on 11 Nov 1526.. We are related, also, to the Zapolya's family tree. Both apparetly were Catholic. I do not know if our Zapolya ancestor who married Julia Radziwill was Catholic or Calvinist or any other religion. The record of her husband is the only missing link.
It will take a great deal more research to find names, dates and records which officially link our Julia , nee Radziwill, and husband Fuerst von Zappolya.
According to Georg Hein b. 1807, grandson of Julia, while he was living in Moscow in the Hahn palace, he recalled wearing caftans, which is Hungarian and not German, of which he never saw and wore, again, after he and his family escaped Napoleon and his army as they marched into Moscow in 1812.
Georg Hein and his family fled southward to Kischnev in Bessarabia. Nearby was a family estate of "Berizane" [also spelled Berijan, Perijan, Periojany]. During my research I discovered the original Radziwill estate was called Birazane with it's property line which stretched from East Prussia into Courland. As late as 1750 the Radziwill's property, who's owner was Michael Casimir "Rybenku" Radziwill (1702-1762) held two fortresses of Newel and Sebes, 23 castles, 426 towns [small and large], 10,053 villages and 2,032 farmsteads. The Berizane estate which Georg Hein fled in 1812 has little or no information. From various records of a few families of Borodino, it shows there were other families who lived, born and died on this estate. I do not know who owned Berizane in 1812. I suspect it had to have been in the Zapolya family since most of this land, at this time, were owned by families who had settled in the Bessarabian area before Russia took it's claim in 1812.
One must remember, also, that in the Middle Ages the Ukraine was under the rule of Polish and Lithunian rule and by the 1700s a lot of the area was under Russian rule.
Michael Casimir "Rybenku" Radzwill [b. 1702) was of the Catholic Line.
What do we know about the rebellious Calvinist line?
It is known that our ancestor Nicholas V "The Red"'s son Christopher adopted Calvanism, which was one of the Protestant sects, who pulled away from the Catholic Church.
It is known that the Polish King Sigismund III found the "heretic" Christopher as repulsive, however, because of Christopher's services in using his own armies and monies in stopping the Russians and the Swedes, the King handed him the baton of hetman.
Christopher II, son of Christopher I, played a key role in the Protestant movement. Therefore, this Polish King Sigismund III didn't find any difficulty in disliking Christopher II. To show his dislike Sigismund III gave the baton of hetman to a Catholic.
Christopher II bowed away and swallowed his pride while he continued to be a defender of the rights of the Protestants..
Christopher II's brother, Janusz VI, however, revolted and nearly cut down the Polish King during this revolt.
It should be noted that Janusz VI had acquired "blood ties" to the Protestants when he married the "arch-Protestant" Elector Johann Georg von Hohenzollern, Elector of Brandenburg in 1613.
Meanwhile, Christopher hoped to gain protection of the Protestants through legal means by gaining new laws. Sigismund III's son, Ladislas IV, didn't find Christopher II as repulsive as his father had found Christopher II's father. So, Christopher II had hopes to success by the peaceful means. When his pleas fell on deaf ears, Christopher II threaten he'd raise his army to fight for fair treatment. And, this was no idle threat. He could easily raise 1000 men. Then, he went one step farther. He asked his brother's father-in-law, Elector Johann George von Hohenzollern, for two dozen light cannons which he could place on his boundaries. Once the news spread, and the Catholics loved to repeat the words, "The heretics have turned the Brandenburg Elector against Warsaw!" From the pulpit were voiced the fear that the "Holy Mother Mary's Church was endanger from the "heretics".... Still no relief for the Protestants.
When Ladislas IV lead a crusade against the Turks, Janusz refused to send his army to help the Polish King.
Christopher II, however, still loyal to his country, despite it's treatment toward his fellow Protestants, gathered up his army and headed into war.
After Christopher II received the baton of hetman, he held no loyality to Ladislas IV. He joined a group that worked toward a deal in which Ladislas IV twould give up any claim to the Swedish throne...... In returned Ladislas IV would gain all of Livonia. His countrymen didn't see this deal as loyal to their king, instead, they didn't understand the complexity of the deal which would have benefited their king and countrymen. The frustrated Christopher II ended up having to attach Sweden. But nothing he did could satisfy his fellow country, most of all anyone in the Catholic Church. He fell ill and died.
Following his father's coffin was Janusz XI who's anger would make his place in the history of Poland and Lithuania.
Janusz XI recognized the invading KingCharles Augustus as the protectorate over Lithuania and signed Act of Kiejdany. Some theorize, he had bedded with the Swedes because he had his eye on the throne of Poland. His countrymen called him more than a heretic, they, now, called him a 'traitor". Did he deserve this label of "traitor"? One must understand what was occurring. There were three huge and powerful countries who wanted Lithuania. On the east was the Russian Tsar, on the south the Cossacks, and the north were the Swedes. He knew that the Russians and the Cossacks would take very few prisoners. The Swedes would allow Lithuania to continue..... Therefore, it can be said, Janusz VI sacrificed his self image for the life of his countrymen. Or, if you believe some historians, he was a coward. If one just looked at his military career, cowardness was never linked to his name. In 1648 he defeated a Cossack army which outnumber is own army. In 1651 he drove the Cossacks out of Kiev. 1654 he and his three thousand mounted men attached a Russian army which numbered some 80,000 strong and stopped their march upon Lithuania and Poland. He was the first Calvinist who served in the Polish Senate.... I think the historians should rewrite his history and remove the label of "traitor" from his headstone.
Janusz VI's son Bogiuslav (1620-1669) carried the burden of his father's and uncle's label of "traitor" which meant Bogiuslav could "not be trusted" by his countrymen.
The family ties remained close to Sweden, Brandenburg and Transylvania.
Bogiuslav fought at Prostki on the side of Sweden and Brandenburg against Poles and Lithuanians. The battle was lost and Bogiuslav fell into the hands of the enemy. A Tartar tied Bogiuslav's hands, handed the attached rope to a Tarter mounted on a house and Bogiuslav was given the choice to run after the Tartar and his horse or be drug until he became a corpse.... He chose to run..... When the Lithuanian hetman Wincenty Gosiewsky saw Bogiuslav he asked the prisoner to be set free.... He was set free and it was a Lithuanian who swept up Bogislav off the ground and hurried him off to the hetman's camp. The hetman did not save Bogiuslav out of the goodness of his heart. He knew a man who had been dressed like Bogiuslav would have family who would pay a high ransom for their prisoner. After six years, it was Bolgiuslav's cousin, Michael Casmir Radziwill of Nesvizh, the head of the Catholic lineage, who paid and gained his freedom. Well, it wasn't exactly freedom. He was Michael's prisoner, now. It was probably Michael who turned to head as not to see his cousin Bogiuslav escape. A short time later, the Prince Elector Frederick Wilhelm von Hohenzollern of Brandenburg gave him the title of general-field marshal.
The Protestant Elector appointed (1657) Bogiuslav as Lieutenant Governor of East Prussia and given, therefore, the duty to protect the Lithuanian Protestants.
Bogiuslav m. his cousin's daughter Anna Maria Radziwill, dau. of Janusz XI. Their first daughter died when just a month old. Their daughter Ludwika Karolina (b. 1667 Koenigsberg, Prussia d. 1695 Brieg) married the Prince elector's son, Margrave Ludwig von Hohenzollern, (b. 1666 Cleve d. 1687 Potsdam, bur Berlin Cathedral) .
Bolgiuslav's death was on the New Year's Eve in 1669, and , he was buried in Koenigsberg by the ritual and voice of Pastor Schemueller of the Calvinist church.
It is said that when Prince Michael Casmir Radziwill's son asked if Bolgiuslav Protestant soul would go to heaven, the response was said to have been, "Only princes who died in the cradle to to heaven."
She inherited all of her husband's and father's wealth which was tremendous. However, I have no information if the Catholic line claimed property and/or land via the male heir laws.
I do not know if Ludwika Karolina [Louise] [Charlotte] and Ludwig had any children. They were married five years. She was just 19 when she became a widow.
True to her father's independent personality, the widow Ludwika refused to marry the son of the Polish King John III Sobieski, instead she accepted the hand of Prince Karl Philip of Neuburg...
Until the documents are found to link us with official status we cannot be placed on official charts, however, we do have the following data.
Nor do I know anything about Georg IV (1578-1613) Radziwill, Castellan of Trakai or his descendants. They are listed as being Calvinists, also.
Who was the first recorded Radziwill recorded in officical records?
As always, the first Radziwill is wrapped in mythodical mist. His name was Lisdeyko who was found in an eagle's nest by a Lithuanian Prince Vitenes, who raised the baby, gave him the position of a high priest, and then gave the hand of his daughter Pojata to Lisdeyko. A marriage made in dreams, tales or reality. As the legend continues, Pojata gave Lisdeyko a son called Sirputt, who begot a a son called Ostika who begot Rak, Tokar, Stanko, Nieware and Radwill. One will never know.
Of course, from legend to reality there are a number of other tales.
The name Radziwill when translated may meansRed Well which indicates some member of the family who probably had red hair or had painted a red marker next to his well. If the man had red hair then this would probably mean all the tales about being linked to some Italian king may prove to have been some Keltic instead. If Keltic then Radwill may be translated as Rado which is from old German maning "young counselor". If using the word "Rad" then this is Old English not Germanic. Red in German is "Rot" If, indeed, it does mean "young counselor" then the name links with another ancestoral family of Roedel.
To find a record one has to take note that in 1401 the name of "Radwill " is found on a charter of the first Polish-Lithuanian union.
Since the Radziwills, all of whom held a great deal of power through the years, loved to write history, makes it difficult for researchers to weed out the truths, half truths and fiction. Also, there are some historians who think the Radziwills linked themselves to a king is highly improbable and will probably prove to be a high ranking families who would prefer to have in their family tree descendants of royality.
Most historians believe the family chart can begin with a person by the name of Voischund. What rank he had and who and where he came from is in question. This is parallel with a Kyrstin Ostik who had nothing to do with the "Radwill" who signed the charter. I suspect, there was probably a marriage because the family does gained the title of hetman Trakai which was from Kystin Ostik family through his son Radziwill. Either case, the family's roots appeared to have appeared in and near Vilna.
Apparently, the firm ground appears to be under the 15th century Nicholas I Radziwill, known in the family as the "Lithuanian Oak" or the "Old One".. See chart above.
---
Gen. 1
Princess [Fuersten] Julia Radziwill [des. of Voischund Radziwill b. 1413]
b. bef. 1786 poss Konigsberg, Pr. .....
Prince [Fuerst] _____[N.N.] ___ von Zapolya [Szapollya] [des. of King John I Zappolya] of Hungary
Issue:

Elizabeth [Issbella] von Zap[p]olya b. 1798 Aradia n. Lowicz, Poland d. abt 1845 m. (1?) Mikoel (Michael) von Hein Ret. Colonel of Russian Army, son of Count Frederic von Hein and Countess Elizabeth Kaltenbrun von Kaltenborn , b. 1788 Estate House near Grodzisk [n. Warsaw], Poland d. aft 1846 Germany, Mikoel remarried .....m. (2) _____

Issue:

Others?
M. [Michael, Mikoel] Georg [Jarig] Hein b. 23 Feb 1807 n. Rudetz / Kulm, Prussia [Poland] d. ca. 1899 Borodino/Bess. S. Russia m. (1) Elizabeth Hager b. 1815 Leipzig/Bess. S. Russia d. abt 1845, dau. of John B. Hoeger and Katharina Haarlos . He remarried to (2) _____? . Migrated to Crimea. He returned to Borodino suffering from cancer to die in Borodino. Not known if his sescond wife returned with him nor is it known if he had children by his second wife.
---
---
Aradia = Arkadia
Just this moment I have discovered that Aradia n. Lowicz, Poland is Arkadia / Poland.. There is a James Stevns Curl who wrote about the "ARKADIA, POLAND" GARDEN OF ALLUSIONS". And I quote: >>As is generally recongized, the eighteenth cnetury saw the creation of many remarkable gardens, there there were few in historical threads were drawn together in such an extraordinry way as was the case of Arkadia, near Nieborow, about 4.5 km from Lowicz, in Poland. Arkadia was created over some forty years by Princess Helena Przdziecka Radziwill (1753-1821).... The intellecutal climate was ripe for making of such a garden, for the last king of Poland, Stanislaw Poniatowski (Stanislaw II Augustus Rex [1764-1795]), had established. an atmosphere in which the ideals of the Enlightenment flourished in his realms, and Freemasonry was one of the most important vehicles by which those ideals were disseminated.
Princess Helena was inititated into Adoptive Freemasony (a branch of the Craft established for women) known as The Society of Mopses, from the Germa for pug-dog (Mops), a breed noted for its courage and fidelity. <<
In 1774 Duke Michael Hieronim Radziwill, who was the voivode (govenor) of Vilnius and one of the richest Polish-Lituanian magnates, bought Nieborow Palace. It can be found at:
http://www.nieborow.art.pl/article.php?d=18
Arkadia is referring to a garden and was on the grounds of the Nieborow Palace.
---
Elizabeth [Issbella] von Zap[p]olya (Szapolya) "Fuerstin"
dau. of Prince [Fuerst] von Zapollya, [des. of King John I Zappolya] and Pr. [Furesten] Julia Radziwill [des. of Nicholas V Radziwill of Lithuania, Prussia and Poland
b. 1789 Aradia n. Lowicz, Poland
d. abt 1845
Why would anyone claim they were born in a garden? Was this telling us she wasn't actually legitmate and born "outside" the Radziwill Palace, therefore "outside" the House of Radziwill? Then, again, I guess it's possible someone could have been born in a garden.
More research is needed.