Pfaff's near Kaiserslautern / Rhineland-Pfalz (Palatinate), Germany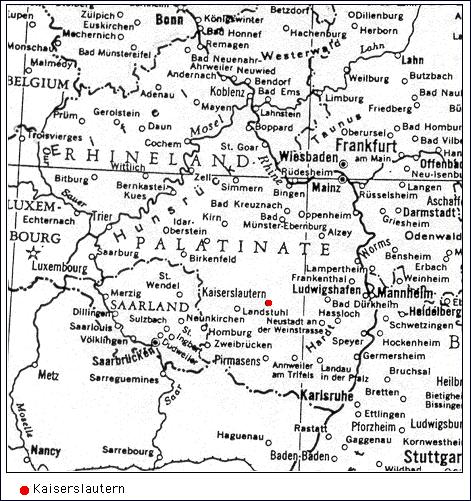 Pfaff families are found in Kaiserslautern in the 1600s and our Pfaff families were found to have lived just north of here in a place called Imsbach in the early 1700s. According to Karen Abel, records for Imsbach do not begin until 1724.

Kaiserslautern is were the famous Pfaff sewing machine factory was founded by Georg Michael Pfaff in 1862..

Our ancestor Conrad Pfaff b. abt 1711 married Anna Margareth Kolb and their first known child Johann Phillip Pfaff was b. 21 Sept 1733 in Imsbach.

See enlarged section of the area north of Kaiserslautern which will show Imsbach
List of Pfaff's of Kaiserslauthern/ Pfalz
Note: Map is from a travel agent - 1991
Families #1:
Pfaff Sewing Machine Co. was founded in 1862 by Georg Michael Pfaff in Kaiserslautern.
Georg Michael Pfaff b. ____ d. 1893 m. ______. Issue:
Jakob Pfaff
Georg Pfaff
Linda Pfaff
Karl Pfaff was the grandson of Georg Pfaff who took up the management of the compnay in 1926. He died in 1952.
The Pfaff Company History is found at the following URL: http://www.pfaff-industrial.de/com/insidepfaff/history/history.html
Families #2
See Letter
Theobald Pfaff who was the grandfather of Peter Pfaff and the common ancestor with Georg Michael Pfaff. Theobald Pfaff I believe was born about 1640 in Kusel. In 1667 I know he was in Kaiserslautern
"3. PETER PFAFF born at Kaiserslautern, June 24, 1727, died at Bethania, North Caroline, January 22, 1804, son of the citizen Johann Daniel Pfaff, miller of the Hospital Mill [Spittelmueller] and Anna Barbara, maiden name Hartung, emigrated to America in 1749. He m. Anna Walburga Kerber
Family #3
Johann Peter Pfaff, "Mueller" [miller] b. 2 Feb 1702 Kaiserslauter / Pflaz [Germany] d. 2 Apirl 1747 Kaiserslautern, son of Heinrich Pfaff ["Spitalmueller" = master miller] m. 8 Aug 1741 Kaiserslautern to Anna Sybilla Lettenbauer b. 1725 Gallappmoehle n. Kaiserslautern d. 12 March 1797 Kaiserlautern They lived for a time (1739)in Moellermeister and Zunft then Listed as being Lutheran.
List of Pfaff's of Winnweiler / Pfalz [See Imsbach Map and Conrad Pfaff]
Kirschheim-Bolanden, Palatinate Area showing Edekoben where the Remmick / Roemmich originally lived in Germany
List of Pfaff's of Alsenborn/ Pfalz [See Imsbach Map]
Family #1
Johann Adam PFAFF m. 1651 in Alsenborn to Anna N.N. Issue:
Katharina Elisabetha PFAFF b. 1773 in Alsenborn d. ___ m. 22. November 1837 in Sembach to Heinrich GEIGER Tgl b. 25. March 1798 in Sembach. Issue:

Henrich GEIGER Tgl. b. 27. Juni 1799 d. 27. Juli 1839.
Lisette Margaretha GEIGER b. 23. April 1802 in Sembach d. 30. April 1803 in Sembach.
Henriette GEIGER b. 11. October 1804
Katharina GEIGER b. 22. October 1806
Ernestina GEIGER b. 1809 in Sembach
Elisabeth Maria GEIGER b. 7. November 1811 in Sembach d. 11. March 1819 in Sembach
Anna Maria GEIGER b. 7. Februar 1815 in Sembach d. 5. Juliy1816 in Sembach.
Charlotte GEIGER b. 2. August 1818 in Sembach d. 22. October 1818 in Sembach.
Family #2
Johan Peter b. 1763 Alsenborn d. 28 July 1821 Alsenborn m. Anna Margaretha Zipp who was the illeg. dau. of Peter Zipp and Katharina Hamel. Issue:
Peter Pfaff b. 10 Jan 1804 Alsenborn d. 27 Nov 1827 Alsenborn
Johannes Pfaff b. 2 July 1806 m.. 13 March 1834 Enkenbach to Susanna Emmer b. 28 Feb 1803 Enkenbach. Issue:

Magdalena Pfaff b. 17 Feb 1840 Alsenborn

Wilhlem Pfaff b. 17 Aug 1811 Alsenborn
List of Pfaff's of Lauterbach....
Family #1
Benedikt Pfaff b. Lauterbach m. Katharina Guenther. Issue:
Franziska Pfaff b. 27 Dec 1789 d. 13 Feb 1837
List of Pfaff's of Gonbach / Muenchweiler/Pfalz
Family #1
Andreas Pfaff - See Andreas Pfaff of Winnweiler / Pfalz
List of Pfaff's of Neumoehle/ Muenchweiler/Pfalz
Family #1
Karl Jakob Pfaff b. Winnweiler m. 13 June 1797 Doroetha Hach. Lived in Neumoehle / Muenchweiler, Pfalz. Doroetha was b. 1779 in / near Otterbach d. 1875
List of Pfaff's of Enkenbach / Pfalz
Family #1
Maria Katherina, nee Pfaff, Boos. See her father Conrad Pfaff
List of Pfaff's of Baalborn....
Family #1
Margaretha, nee Pfaff, Schaum. See her father Conrad Pfaff

Maria Barbara, nee Pfaff , Burkay. See her father Conrad Pfaff