Perjamosch Family List Connected to Hubert Families
Last Update: 18 Nov 2011

Perjamosch / Banat, Austria-Hungary
List of Families Connected to Hubert Family
A / B / C / D / E / F / G / H / I / J / K / L / M / N / O / P / Q / R / S / T / U / V / W / X / Y / Z
RESEARCHING HUBER/ HUBERT FAMILIES
LIST: Huber, Hubert, Huebert, Hueber, Huver, Hebert, Heber, Hoeber, Hupert,Huper. Huppert...who settled in the area known as Banat in Austria-Hungary.
by Judy A. Remmick-Hubert
Huberts and the German Schwabians in Banat Villages, Austria-Hungary 1700s to 1906
Expert geneologist and family data have given us the facts that my husband's, Garry J. D. Hubert's, ancestor was Franz Xaver Hubert [sometimes spelled Huber in records].
Franz Xaver Hubert [Huber] was b. before 1755. The Perjamosch book suggested he was b. about 1744 d. 8 Aug 1820 Perjamosch m. 23 June 1772 Perjamosch / n. Temesvar, Banat, Austria-Hungary to Marie Sidonia Fixmer [F80.5] b. 21 Oct 1754 Schwemlingen / St. Gangolph, Pf R-H :or Schwemlingen / n. Merzig, Saarland] d. 27 Oct 1826 Perjamosch, dau. of Anton Fixmer and Anna Maria Steichen .
The witnesses of the marriage was Franz's brother Maximilian Hubert and someone by the name of Jon. Boor (Bor, Poor) who's family was from Gonzerath / n. Morbach in Hunsruck,
Franz's brother was Maximilian Hubert b. about 1742 and d. 18 Dec 1812 in Perjamosch m. 9 Sept 1764 in Perjamosch to Maria Eva, nee Roemer, Gensinger, who was, also, a German Schwabian from the area of Kirschberg / Hunsruck (Hunstruck, Hunstrueck) Dist., Rhineland-Palatinate, Germany. The witnesses who signed for his wedding documents were Nik. Kihlburg and Xaver Dinkl.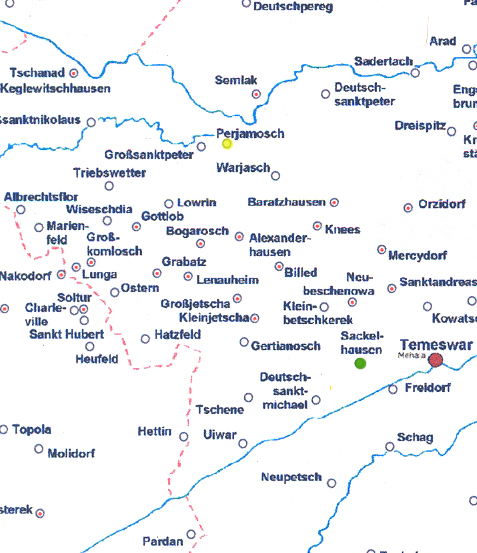 Perjamosch shown with yellow dot - Hubert lived in this village
Sackelhausen shown with green dot - Hummel lived in this village
dvvh map
We know that Franz and Maximilian married into Schwabian German families but we do not have records that tell us that Franz and Maximilian Huber / Hubert were Schwabian Germans. The fact is, we do not even know if they were German. All we have is Franz's and Maximilan's data after they migrated to Perjamosch and married. Maximilian, who is thought to have been older than Franz. Maximilian married in Perjamosch in 1764. Franz is not mention as being in Perjamosch until his own marriage in in 1772.
No one has found any information in records about who their father and mother. This doesn't mean that one of the older Hubert / Huber mention in the Perjamosch records are not are not his parents, uncles, aunts, or cousins. We know more about Framz's amd Maximillian's wives and their families then we do about Franz and Maximilian.
Can we assume Franz and Maximillian were German iSchwabian since both married German Schwabian bridides? No. Can we assume they wee German. No. Can we determine the more likely background of Franz and Maximilian by using an educated guess? I'm not sure. Let me present what I know and let us see what you, the reader believe, after the evidence has been presented.
Let us start with the name Hubert, which is how Franz's descendants spelled their name when they reached Chicago, Illinoise, USA in 1906, and, along with the name Huber since both spellings are found in some records of both Franz and Maximillian and their children and descendants Perhaps their surname can give us a clue.
Meaning and Origin of the Name Hubert and Huber.
hubbard (English) from the raw word hugi-beorht = brilliant intellect
hubell (English) from the raw word hugi-bald = brilliant-proud one
huber, hoober (German) from the raw word hugu-beraht (old German) = a brilliant intellect
hubert (German, French and English) from the same raw word as for huber and Hoober is hugu-beraht = a brilliant intellect
hugi (old English, Welsh) = intelligent one
hugo (old French) = intelligent one
hulberd, hulburd, hulbert (Old English) from the raw word huldi-beorht = gracious, brilliant one
The various names just in German and English meaning the same "brilliant intellect" or "brilliant spirit" are:
Bert, Bertie, Berty, Hobart, Hubbard, Hub, Huber, Hubert, Hubie, Huey, Hugh, and Hugo
In Czech:
Hubert, Hubertek
In Russian:
Berty
In Spanish:
Berto, Hubi, Huberto, Uberto
The origin of the words "hubert" and "huber" do not give us farther clues as these words can be found in Old German, Old French and Old English. Hubert means "brilliant intellect" in all the lanugages..
The name Franz may give us a better clue. Root word Franko which refers "Frank", and ancient Germanic tribe who were "free man". The various spellings are: in German: Frank, Frantz, Franz, Francis, Franciscus. Old German and old English: Frank, Franck, Franckel, Frankl with three meanings "spear man", "free man" or descendants of the "Frankos" [Franks]. The French variations are Francois, Francis and Franchot. Spanish: Francisco. Latian: Francesco, Francheschi, Francheschini, Franchi.
Franxz Hubert/ Hubert had a middle name, also. It was Xaver, which can also be spelled Zaver which is German meaning "bright". Xavier is Arabic and means the same, "bright" . In Spanish Xavier or Javieri (Bas) from the root word Eche-berri, which means owner of a new house.
Franz's brother was named Maximillian. Does this name give us any kind of clue? It is spelled this way in Latin. In German it is spelled Maximalian or Maximilian. Maxime is the French word used. Was he so named because his grandfather or grandfather had carried the name. Maybe. The only other reason one of the Huberts would be presented this name is do to the popularity of the Holy Roman Emperor of the German Nation Maximilian II (1527-1576), House of Habsburg, and is said to be the reason Austria remained Catholic when he retused demands of the Lutheran princes... The Polish magnates elected him in 1575 to be King of Poland in opposition to Stephan IV Bathoy, a partisan of John Zapolya, the King of Hungary, but, Maximillian was not accepted and forced to leave Poland. The son of Zapolya would fall to the Habsburgs in 1570 and be given the title Prince of Transyvania.
HUBERTS LISTED IN AUSTRIAN RECORDS
Were the Huberts already in Austria?
Are there other Hubert/Hubers mentioned in Perjamosch who might be family members who's point of exit from the German States might give us a clue to the origin of the Huberts before they settled in Permosch around 1724? No,. Unfortunately there was a terrible flood in 1731 and all the records were destroyed, which included the records from it's founding years 1724 to 1731. There were Huber/ Huberts listed in 1731 as "taxable". In other words, the Huber/ Hubert family, who had lived in Austria-Hungary for three years or more years because they were no longer exempted from being tax free, which was part of the deal offered by Austria-Hungary to new colonists. It also meant they had enough property that they were independent and could be taxed. The taxable list, also, included the families of Deller, Zillich, Schuch and Werkmann. These names can be found on the family branches of Franz Hubert / Huber's family tree.
With new research, various lists have been discovered. There is an official list of immigrates from Saarland who settled in Perjamosch. They are:
Huber from Urexweiler / St. Wendel,
Jost from Bissen-Niederhofen / St. Wendel,
Lambert from Schwarzenholz / St. Wendel,
Zillich from Bliesen / St. Wendel
and two other families on the same list even though they place their origin elsewhere and they were:
Schuch from Bettenburg / Alsette, Luxembourg,
and
Werkman from Forst / Kr. Durkheim an der Weinstrasse.
It appears Shuch and Werkman may have moved southward into Saarland then picked up and moved, again, but this time all he way to Austria-Hungary.

Find these colonists listed in more detail under my Permaosch "A" to "Z" section.
Franz and Maximilian families would marry into each of these families, accept Lambert, and I may find them included as well as time goes by.
Can we begin to lean toward the theory that the families of Franz and Maximilian Hubert / Huber's migrated from Urexweiler / St. Wendel? Before we jumped too quickly into any kind of decision, let me ask, were there any other Hubert/ Huber listed in or near Perjamosch either before or after this family from Urexweiler? Yes. They are::
__NN__ Huber [Hubert] from Schwarzenholz / Saarlouis [west of St. Wendel], Saarland
__NN__ Hubert [Hiubert / Huber] from Urexweiler / St. Wendel, Saarland
__NN__ Hubert from Serrig / Saarburg in Saarland [n. Trier]
Anges Huber b. about 1712 d. 1 Oct 1782 to Perjamsoch
Franz Xaver Hubert (Huber) b. about 1744 ++ known ancestor, place of origin not recorded
Johan Hubert b. about 1697 (no record of place of origin) d. 6 July 1772 Perjamosch
Johann Huber b. before 1756 d. not recorded as having been born or died in Perjamosch but is recorded as having lived in Perjamosch
Johan Huber b. about 1765 d. 23 Sept 1804 Pesak / Banat, Austria-Hungary.
+Johan Huppert (Hubbert, Hubert) from Mettlach / Merzig, Trier (Rhineland-Palatinate) to Neu (New) Beschenowa where he died at the age 63 on 18 Feb 1785 which means he was b. ca. 1720. It has been suggested that his son was Peter Hubert who migrated from Haulik = Gaulik=Julich, Bavaria.
Johann Hubert b. about 1820 Majlot (Mailot), n. Arad, Aust.-Hung., poss d. Perjamosch, thought to be son of Franz Huber/ Hubert.....
Josef Hubert from Oberkirch / [Black Forest], Baden-Wu.to Sackelhausen NOTE: Joseph/ Josef Hubert m. 23 April 1770 in Sackelhausen / near Temesvar/ Banat, Austria-Hungary to Catharina Mor / Mohr. In a census (not date mentioned) Joseph is listed as having four sons. Only one is mentioned and his name is Josef who married his wife 9 Jan 1774 in St. Hubert to Anna Catharina Leutner. This means that Josepf, the younger was at least 17 when he married in 1774 which means he was born before 1757. This means Josef, the younger's mother was not Catharina Mor. Mohr, therefore, when Josef, the elder married Catharina, he was a widower and may already had four sons. No daughters are mentioned. This means if Joseph, the elder was married when he was about 17 then he was born in or before 1740.. IF this was a second marriage for both, we could push back Joseph, the elder's and Josepf's, the younger's birth dates back farther to the late 1600s and about 1715 or later. [Note: See Hummel Family for more detail on this family and Sackelhausen.]
Peter Hubert from Tetingen, Luxemburg to Neu Beschenowa
+Peter Hubert from Haulik [Guelich=Gullik=Juelich, Palatinate before 1777 and after was part of Bavaria]. It has been suggested that Peter might be the son of Johan Huppert / Hubbert, / Hubert b. ab out 1720, therefore, if this is true, Peter was born. after 1737.
[Note: There is an interesting fact that might need more research. There was a "Freiherr" Nikolaus Hubert b. 25 Sept 1774 in Julich [the same town mention by Peter Hubert+] who became a Major General and Brigadier in the Bavarian military and gained the title of von Maillot de la Treille then served as Minister of State of the Army on 30 Sept 1822. He retired in 1829 and died in Munich in his manor house in the Schabing Bourgh on the 24th of Aug 1834.]
If these people are not related but merely carry the same surrname, what they do have in common is the fact that they left these area (noted above) and became part of the German Schwabian Migration to Perajmosch as early 1724 or later . Some Hubert/ Huberts left and settled in other German colonies, while others remained in Perjamosch . If the Franz and Maximilian spoke another German dialect and / or French before they migrated to Perjamosch, it was lost as the years passed as their children and their children's children became embersed in the German Schwabians language, culture and traditions.
Perjamosch / n. Arad, Banat, Austria-Hungary
What do we know about Perjamosch that might give us clues about Franz and Maximilian Hubert / Huber? Perjamosch was one of the first three of 46 German Schwabian colonies established in 1724. The other two were Deutsch -Sankt-Peters and Neu-Arad. After 1724 we find Hubert / Hubers living in Perjamosch from then to WW II.... Families lost touch about this time. Maximilian Hubert / Huber in 1762 and Franz Hubert / Huber in 1777 marrying German Schwabians brides, and their children and descendants living in Perjamosch as well as other German Schwabian Colonies in and around Arad and Temesvar, Banat, Austria-Hungary. We learn these two men might have migrated even earlier than 1724.. They were not part of the "First Schwabian Migration" 1711 to 1740 which is about two years before Maximillian was born. Added to the Germans were the demobilized soldiers of Prince Eugen's army , who had fought for the Habsburgs against the Turks at Belgrade. Maxillian and Franz were born before The Second Schwabian Migration which occurred one year after Maximilian was married, which was 1763 to 1773. Along with the immigrants were from the Seven Years War (1754 to 1757). Sprinkled in the mix of colonists were prisoners who were Italians and Spaniards. The Third Schwabian migration occurred from 1781 to 1785.
For all we known, the brothers could have been born in some army camp just about anywhere in Europe during the 1740s. The list of battles is quite long. I'll name a few of the battles:
1740 - Outbreak of War of the Austrian Succession
1741 - Start of King George's War, a colonial war which included France and Britain
Battle of Toulon, France, which was France with Spain against Britain
1745 - 1749 - There were many more battles that spread from Belgium to Austria-Hungary and they involved soldiers from Austria, Prussia, French, British, German States...
If Franz and Maximilian parents had not been a part of the army, they could have migrated into Austria-Hungary earlier to other colonies.
http://freepages.genealogy.rootsweb.ancestry.com/~banatdata/Documents/NewOnTheList.htm >>German colonists (Kolonisten) had migrated in the 1600s, already, but mostly at the invitation of large landholders who needed farmers to work the land and also some craftsman. Most of these new citizens came out of SW German after a devastating war with France and to escape starvation. Other motives for the migration of these survivors of a 30 year war are the devastation of the area... A local German ruler, Johann Philipp Franz, expressed the hope that "emigration of the local poor would relieve the burden for those who stayed behind.<<
The chistian names of Johann, Philipp and Franz are names used in the Hubert / Huber families. My husband's father's middle name is Philipp. To add to this, Catholic families often carried certain names, whereas, after the Protestants came into exsistence, one can find a change in the Protestant Christian [given] names.
Back to history of Austria-Hungary.
>>As early as 1719 count Mercy was encouraged by Vienna to entice settlers by offering a royal degree of freedom, 3 years of no taxes, cheap material for building, permission to construct their own mills, erect distilleries. Each settler was also to receive a bed with straw sack, one carpet, one dough box, one ax, one spinning wheel, one butter churn, one wagon, one plow, one harrow, one scythe, one sichel; and the ones from Gutenbrunn a horse and four cows. Also seed for the first year with the provision that it be replaced after the first harvest. For the trip each head of family received daily 12 Kreuzer, grown children 6 Kreuzer and little children 2 Kreuzer." "This travel money shall be from station to station, and each of these could be four days apart." They were given houses in master-planned villages. Fields were allotted in farmlands around the villages. There was also the lure of freedom from serfdom, initially exemption from taxes, and uncrowded land. "There where recruitment offices in all major german cities and the austrian empire." The recruiters were well rewarded. "A reward of 1 fl 30 kf is offered to the recruiters and should other states offer higher inducements, I shall increase mine. Families who arrive without recruiters efforts shall receive the same reward." "("Heimatbuch Heufeld-Mastort-Ruskodorf"Gerhard-Klein-Rebl-1987) Often overlooked however, was that concurrently with Hapsburg recruitment of settlers to the Banat and Batschka was extensive efforts by Hungarian nobles to attract German settlers to their thinly populated estates in the Pannonian basin. Of interest to the history of the Banat was private recruitment of German settlers to the area around Arad. In return for services rendered to the crown, Johann Freiherr von Harrucker was awarded 1800 sq miles of thinly populated and devastated land North of the Marosch. As early as 1722 the first 150 German families arrived to his estates where they received generous concessions. This settlement program was continued by his son, Franz Harrucker. <<
See the article in full.<< http//www.dvhh.org/banat/history/1700/colonization.htm [:With particular emphasis on emigration from Lorraine and Luxemburg....]Author is unknown. Source: DVHH.org The numbers represent footnotes for the article.
[Article in part......] >>After the Treaty of Passarowitz, the Banat obtained a unigue position as a crown land with its own administration. By order of the emperor Charles VI, the Viennese court chamberlain's office began in 1722 with the colonization of the desolated and depopulated area. After the expulsion of the Ottomans, the land, which for the most part consisted as marshes, was initially settled mainly in the higher lying border regions of the Banat plain. It was only after the construction of the Bega canal and the draining of the marshes that it was possible to develop more of the area. The peasant colonists (all of whom had to be Catholic, as the ruler decided on the religion of his subjects) came from all countries where the German language was spoken at that time, from Luxemburg (actually the Belgian province of Luxembourg), Alsace, Lorraine, South Tyrol and even from Spain. About 3000 families found a new homeland in the south and north of the Banat. The new settlers were brought to preexisting settlements (Perjamosch, 8 Groß-St-Peter,9 Sarafol,10 and Groß-St. Nikolaus11), as long as they had not been "enticed away" by force, by Hungarian lords of the manor. The colonists lived under poor conditions and suffered great hardships. Many people unfortunately did not survive their settlement in boggy Hungary. The Bega canal, which would drain the swamps of the Banat heath land, was begun in 1728-1733 and finally completed in 1753. Of the approximately 15,000 settlers of the first Schwabenzug, most succumbed primarily to malaria. The death rate was extremely high. Renewed atrocities decimated the population, when the Turks again overran the Banat in 1738. Between 1737 and 1739, only about 3000 persons entered the region. They were housed in pre-existing towns, from which the previous inhabitants had fled or died. Saderlach12 was settled by families from the Black Forest, Mercydorf13 with Italians and South Tyroleans, who were to establish silk culture and rice cultivation. About 500 Catholic Clementiners14 came to Rekasch15 from Bosnia (which was Muslim) and about 1000 Catholic Bulgarians came to Winga16 and Alt-Beschenowa.17 Following the Turkish war of 1738, only about half the population survived in the 55 villages which previously had a total of about 20,000 German settlers. Twenty eight destroyed villages were neither rebuilt nor resettled. After an infantry battalion introduced a plague into the fortress of Temesvar in 1738, and the Turkish war had caused a mass exodus from the southern Banat, the achievements of the first Schwabenzug were almost wiped out. After the Treaty of Belgrade (1739), renewed efforts were made to attract German craftsmen, farmers and merchants to the settlement. Above all, skilled workers were in demand to repair and build fortresses and to rebuild the destroyed cities. With respect to settlement policy, not much was accomplished by Charles VI after 1739. He died on 20 October 1740. After the Hungarian parliament recognized the "Pragmatische Sanktion" (pragmatic sanction), with which Charles VI named his daughter as successor, the path was free for the 23-year old Maria Theresa to assume rule and occupy the throne. In the first years of her reign, very few settlers colonized the Banat, as she was financially strapped because of the war of succession in Silesia (1748) and the Seven Years War (1756-1763). In order to pay her war debts, Maria Theresa mortgaged the Banat to the Vienna City Bank for 10 million gulden. The bank was adverse to investments in the Banat. War debts, lack of money and an anti-settlement attitude in the involved government offices hindered a larger settlement campaign. Even so, there was an early Theresian colonization period in 1740-1754. In addition to Romanians from Small Wallachia and from Bulgaria, about 2500 German settlers came to the Banat and settled in Neubeschenowa [NeuBeschenowa],18 St. Andreas19 and Tschanad.20 The new borders of the crown domain after the Turkish war also required a new Military Border in the southern Banat. About 1748, the "French" colonization of the Banat began with emigration from Lorraine and surrounding regions. The Bega canal was extended in 1759 under the direction of the Dutch engineer Max Fremaut, and connected to the Temesch through a system of locks, so that it could serve as a navigation channel for the arriving colonists..<<
The Huber / Huberts origin before 1764 may never be known but the families in which they married can be given and they can be found on this web site: See Huberts from "A to Z"
and

For the next segment of this article , let us assume that Franz and Maximilian were German Schwabians, after all, this was the German dialect the Huberts were speaking when they , Franz Hubert / Huber's descendants migrated to the Chicago area in 1906. And, it appears they did not marry "outsiders" after their marriages in Perjamosch.
Perhaps I need to add at this point that Germans were strict about remaining within certain ethnic boundaries. Germans married Germans. Catholic German married Catholic Germans. Germans first language was German. Germans did speak one or more languages, however, it was usually the men. The women were usually isolated in the German colonies and most did not learn another language. Exceptions were the upper class and well educated. There were some need of words of another language needed when dealing with the selling and buying of goods from "outsiders". Actually, the term used by Germans for everyone outside of their group was "foreigner", this could include a German Protestant or even a Catholic who was from a different area, this included even a nearby colony that was German and Catholic but "different", a German Saxon for example. In Perjamosch, it appeared the German Schwabians were the dominate group.
German Schwabians. Who Were They?
What does it actually mean when Germans are called"Schwabian" [Swabians]? Their European roots are found in the German tribe who spoke an Alemannic dialect, known as the "old High German", which was spoken in the areas known as Baden, Wuerttemberg, including Stuttgart, Bavaria , and parts of Switzerland. Some migrated, to new colonies in Banat, Austria-Hungary area (known presently as Rumania / Romania) and into areas of Old Russia under Catherine II "the Great". It appears that the Huber/ Huberts listed with Franz and Maximilian were from these areas. The history of each area is complex as the Germans and French fought constantly for rights of large [parts of a county] and small [estates]properties. [See history of the German states. and my own site: Remmick's German Facts Index My site includes all known German states and properties under the title of Holy Roman Empire before 1806.]
LINKS to more information on Schwabia
http://wikipedia.org/wiki/Swabia.
http://freepages.genealogy.rootsweb.ancestry.com/~banatdata/Documents/NewOnTheList.htm article written by Cath Descu about Banat colonies.
Here are few facts according to wikipeida:
>>2000 yers ago, the Suebi or Suevi were an Elbe Germanic tribe whose origin was near the Balic Sea, which was thus known to the Romans as the Mare Suebicum... They migrated to the southwest, becoming part of the Alamannic confederacy. <<
>>Swabia became a duchy under the [Germanic] Frankish empire in 496... Swabia was one of the original stem duchies of East Francia, ...later Holy Roman Empire, as it developed in the 9th and 10th centuries. The Hohenstaufen dynasty..., which ruled the Holy Roman Empires in the 12th and 13th centuries, arose out of Swabia....the last Hohenstafen, on Oct 29, 1268, the original duchy gradually broke up into many smaller units.<<
The Germanic roots of many of the more recent rulers such as Charlemagne and those who followed, the Habsburgs and Hohenzollersn, are Schwabian..
The descendants of Franz Xaver and Maximilian Hubert / Huber spoke German Schwabian when they reached Chicago, Ill, USA in the late 1800s and early 1900s. And, yes, we do not know if they spoke German before they settled in Perjamosch. Their brides did, so, this information is important to my husband's family history.
Although I do not fully believe everything I read on wikipedia, it is often a place to start. If you'd like to know more details look up:An excellent map that follows the Sabian dialects can be found on:
http://en.wikipedia.org/wiki/File:Alemanic-Dialects-Maps-English.png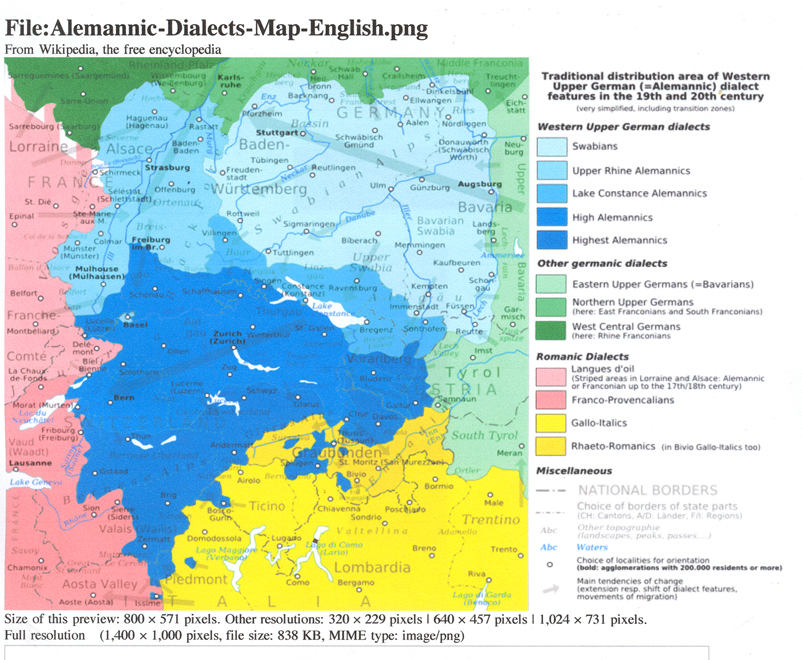 dvhh map
Some historians claim that the term German Schwabian Migration is not accurate. I beg to differ when you look at the map above.