Last Updated: 17 Nov 2005


In a message dated 6/25/02 7:34:00 PM, fstup@wat.midco.net , R-105, writes:
Letter #1
<< HAVE we conversed? I have what you have on Juliana, mainly from patching things together and conversing with Stangls. Do you have the Freudental Census? That is how I pieced my gr gr grandmother with Juliana. I knew that there had only been a limited amount of Koschels coming into Neu/Freudental........That is also where I picked up the Weber link for their mother. There was a Weber family that homesteaded in Yankton County and I was wondering if this person was any relation to my gr gr grandmother. I see that some Pfaffs and Feocks homesteaded in northern SD too. I also see that a couple of your letters on your site were sent by Amelia Weidenbach. She and my father were first cousins. I converse with her but both she and her sister are getting up there in years. They live near Detroit and I visited them when I was there for a school convention.
I have written Steppes to Neu Odessa, which is in its 2nd edition and hopefully, sent to the printer this week by the publisher. I have finally been able to link up my Frank relatives so this link between Juliana and Catherina that I am supposing are sisters is quite interesting.
Letter #2
George Jakob Koschel b 03 Dec 1796, Torschau, Hungary..died 12 April 1881 in Neu Freudental m Anna Maria Agnesia Weber, dau of Johannes and Magdalena Weber. She was b 03 Jan 1799 in Klein Schenheim, Wu and d 01 Feb 1856 in Neu Freudental. Children of George Koschel and Anna :
Katherina Koschel b circa 1824 in Freudental, died 22 March 1879 in Lesterville, SD m Gottlieb Christian Frank 18 Sept 1844 in Johannesthal, SR, b circa 1820 in Waterloo, SR, died 20 December 1878 in Yankton, SD
Juliana Koschel b 1822 in Freudental, SR. m (1) Johann Philip Pfaff 16 November 1838 in Freudental; he died 05 August 1848. She married (2) Conrad Feiock 01 Feb 1851.
George Michael Koschel b 1824 in Klein-Freudental
Anna Maria Koschel b 2 Nov 1834 in Neu Freudental
Johann Jacob b 17 Jul 1834 in Neu Freudental (born to A Georg Jacob Koschel and Friedricka Weber who was approx 16...I believe this was Anna Maria's sister)
---

See article written in the Selby, SD Jubilee Bk. on Philipp Paff and family
---

In a message dated 2/12/03 6:36:40 AM, rewilley@localaccess.com writes:
<< Good morning!
I am helping a friend trace his ancestry. His gr grandfather, Johann Jakob BROECKEL, wife and 4 daughters came from S. Russia to North Dakota in about 1897-99. In 1905-6, Johann's son, Peter BROECKEL and family joined them.
This man knows very little about his family. His father left ND before he married and refused to talk about "the old days". What little we can piece together comes from this man's few family outings with other family who left ND. I don't get the sense that there was anything horrible or scandalous in the refusal to speak of the ND years, just a man who didn't think there was anything interesting about a hard farm life.
Your wonderful site has helped both of us learn so much about the villages in So. Russia, as well as some family history. As a genealogist, I really appreciate all of the effort you've put into your site, especially by adding maps, letters, and other extremely helpful pieces of information.
What we are interested in is the following 2 entries:
Carolina Pfaff m. Heinrich Gimbel
* Carolina [Karolina] Pfaff m. Adam Broeckel
1.. Adam Broeckel b. 29 N9ov 1881 Petersthal
*Christina Pfaff m. Gottlieb Broeckel
1.. Christina Broeckel b. 19 Oct 1851 Petersthal
2.. Johannes Broeckel b. 13 March 1854 Petersthal
3.. Margaretha Broeckel b. 26 June 1855 Petersthal
4.. Gottlieb Broeckel b. 11 Jan 1858 Petersthal
What we are fairly certain of is that Johann Jakob Broeckel was b ca 1839 in (prob) Petersthal and married at least once to an Elizabetha_________( some family asserts her surname was Pfeiffer, others Pfeifle, others that he was married 3 times...) in S. Russia; had ch: Fredericka, Hanna, Elizabeth, Clara, Peter. Peter said to have been born 1873/74; US census records indicate that is a viable birthdate.
Do the Broeckels that intermarried with the Pfaffs in S.Russia connect to this Broeckel family?
While we have limited information at the present, we would be happy to exchange what we have.
Nancie Howell Willey >>
---

In a message dated 3/25/03 3:52:29 PM, rolene@mlode.com writes:
<< they are Henry Ebel, Fred Ebel and their wives - and apparently (?) taken in Russell, Kansas
This picture was in the possession of my grandmother Maria Ehrlich Eichman. Her father, John George Ehrlich (1866-1941) married Katrina Deines Ebel after the death of his first wife (my direct ancestor) this is what I know about Katrina, born 1864:
> According to 1910 census (entry #188 KS), her husband, Fred Ebel immigrated in 1887 and was born ca 1858. In 1910, she and Fred and their son, Fred Jr. with his wife Lydia (from N.D.) lived together.
I would believe that the men in the picture are related to Katrina, or most likely I would not have the picture.
Rolene >>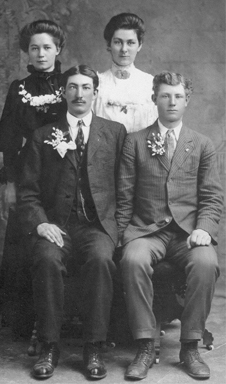 See Ebels. Are they related to Pfaffs?
---

In a message dated 4/26/03 1:24:17 AM, Michael, michael_w55313@yahoo.com writes:
<< Descendants of Phillipp Ebel
Generation No. 1
1. PHILLIPP1 EBEL was born 1853, and died 1924. He married ELIZABETH MAUCH.
Child of PHILLIPP EBEL and ELIZABETH MAUCH is:
2. i. MINNIE2 EBEL, b. February 20, 1892; d. October 1978, Mobridge, Sourth Dakota.
Generation No. 2
2. MINNIE2 EBEL (PHILLIPP1) was born February 20, 1892, and died October 1978 in Mobridge, Sourth Dakota. She married JACOB M. BENDER September 05, 1909, son of GEORG BENDER and CHRISTINA MAUCH. He was born May 06, 1888 in Germany, and died December 26, 1963 in Mobridge, Sourth Dakota.
Notes for JACOB M. BENDER:
Jacob M. Bender's Obit (Dec 26, 1963 is the date of the obit)
Services were Tuesday for Jacob M. Bender, 75, who died of a stroke Saturday at his home in Mobridge. Rev. LeRoy Gardner officiated in the First Baptist Church. Burial in The Greenwood Cemetery. He was born May 6, 1888 in Germany and came to the United States in 1889 with his parents, Mr. and Mrs. George Bender. On Sept 5, 1909 he married Minnie Ebel.
Survivors are his wife, 4 sons, Don and Marlyn of Mobridge, Darrell of Frederick, SD and Bennie of Tucson, AZ. 8 daughters, Mrs. Palmer (Freda) Myron of Mound City, Mrs. E.L. (Evelyn) Bastian of Miles City, MT, Mrs.Viola Lewis of Walker, Mrs. Norbert (Beatrice) Collins of Trail City, Mrs. Orville (Minnie) Ekrem of Selby, Mrs. Milo (Bernice) Pooley of Ridge Crest, CA, Mrs. Robert (Donna) Bohl and Mrs. Wayne (Elaine) Lahren of Mobridge. 2 brothers, Adam of Sturgis and Ben of Orange Grove, CA. 2 sisters Mrs. Katie Lang of Minneapolis and Mrs. Freda Opheim of Mound City, 47 grandchildren and 23 great grandchildren. He was preceded in death by 2 sons, Willard and Floyd, both in 1926, a daughter Joan in 1933 and 4 brothers, Theofil, George, Emanuel and William.
More About JACOB M. BENDER:
Burial: Greenway Cemetery/ Greenway, South Dakota
Cause of Death: Stroke
Children of MINNIE EBEL and JACOB BENDER are:
i. BEATRICE3 BENDER, m. NORBERT COLLINS.
ii. BENNIE BENDER.
iii. BERNICE BENDER, m. MILO A. POOLEY.
iv. DARRELL BENDER.
v. DONNA BENDER, m. ROBERT BOHL.
vi. ELAINE BENDER, m. WAYNE LAHREN.
vii. FREDA BENDER, m. MYRON PALMER.
viii. MARLYN BENDER.
ix. VIOLA BENDER, m. UNKNOWN LEWIS.
x. EVELYN E. BENDER, b. August 27, 1912; d. August 05, 1997, Miles City, Custer Co., MT; m. E. .L. BASTIAN.
xi. MINNIE E. BENDER, b. November 21, 1919; d. November 16, 1996, Selby, Walworth Co., SD; m. ORVILLE EKREM.
xii. DONALD J. BENDER, b. September 08, 1921; d. December 31, 1993.
xiii. FLOYD ODELL BENDER, b. March 27, 1925; d. July 09, 1925.
xiv. WILLARD DALLAS BENDER, b. July 22, 1926; d. April 01, 1927.
xv. JOAN BENDER, b. 1933.>>

Ebel and Mauch Families
#1
In a message dated 7/9/03 7:47:21 PM, Jeanette, cojamk@yahoo.com writes:
<< ...I am attaching two photos. One of the Karl Ebel - Christina Will family and one of Karl II and Anna Maria Fehr. I will try to get a third photo scanned of Karl Julius Mauch I another time - the quality isn't as good however. Anyway feel free to us the following information. Jeanette Kelly
In your letter section (letter # 1 from Gertrude Pitkanen) I found mention of some of my family members, specifically Philip Ebel and Elizabeth Mauch. Elizabeth Mauch Ebel's parents were Karl Julius Mauch I and Christinia Barbara Horst. I am also descended from Karl Julius Mauch and Christina Barbara Mauch.
In letter # 5 Gertrude Pitkanen writes" My great grandfather was Karl Mauch [see photo] married to Elizabeth_____," Her great grandfather Karl Julius Mauch I was actually married to Christina Barbara Horst, not anyone named Elizabeth. He was however married two other times. His first wife was Justina Fix. Justina died from cholera on July 27, 1855 fifteen days after giving birth to their seventh child. Karl Julius Mauch I then married Christina Barbara Horst and had eleven more children (six died in infancy). After Christina Barbara's death in 1884, Karl married a third time to Friedrika Schaefer Nagel. It was a third marriage for both and no children were born to this union.
Karl Julius Mauch and Christina Barbara Horst had the following children:
Sophia Mauch b.7 Aug 1856*
Ludwig Mauch b. 27 Apr 1858*
George Mauch b. Apr 1860*
Elizabeth Mauch (Ebel) b. 15 Feb 1862
Carl Mauch b. 27 Jun 1864*
Karl Mauch II b. 7 May 1866 (Married Anna Maria Fehr)
Sophia Mauch (Fuehrer) b. 13 Oct 1868
George Mauch b. 30 Jul 1871*
Katharine Mauch (Mauch) b. 2 Feb 1875
George Mauch b. 30 Jan 1877*
Adam Mauch b. 4 Jul 1878
*died in infancy
In letter # 5 Gertrude goes on to mention another Karl Mauch married to Amelia -- This was actually Karl Mauch II who married Anna Maria Fehr. Karl Mauch II was the son of Karl Mauch I and Christina Barbara Horst. Gertrude's list of Karl II and Anna's children is incomplete.
Karl Mauch II and Anna Maria Fehr's children:
Elizabeth Mauch b. 25 Dec 1885 m. ___ Kist [correction 9 Dec 2003]
Karl Mauch III b. 23 Dec 1886
Friedrich Mauch b. 21 Apr 1888
George Mauch b. 20 Apr 1889
Katherina Mauch (Horning) b. 19 Apr 1891
Karolina Mauch (Kist) b. 15 Dec 1892
Amelia Mauch (Borth Wonnenberg) b. 8 Jun 1894
Edward Adam Mauch Rev.. b. 1 Jul 1897
Lydia Mauch (Kremer) b. 21 Aug 1900
Karl Mauch II and Anna Maria Fehr [see photo] were married on November 4, 1884 in Worms, Odessa, Russia. The Karl Mauch II family immigrated to the United States in 1906. they traveled first to Bremen, Germany where they boarded the SS Rhein on June 9, 1906. They arrived in Baltimore on June 22, 1906. All but one child made the journey. Karolina was unable to travel because of a medical problem. I have been told it had something to do with her eyes and that she stayed in Russia with family friend for about two years before joining her family in the United States. Upon their arrival the family traveled to Kidder County, North Dakota. They eventually moved to Eddy County, North Dakota. My father (their grandson) tells me that Karl Mauch II worked for the Great Northern Railroad. Karl died 27 Nov 1945 and is buried in New Rockford, North Dakota. Anna Maria died 16 Apr 1949 in Linton, North Dakota. I am attaching a photo of Karl II and Anna Maria Fehr Mauch.
Now back to Elizabeth. nee Mauch, Ebel. She was born 15 Feb 1862 in Worms, Odessa, Russia and married Philip Ebel in 1877. They came to the United States around 1885. Eleven children were born to this union. Elizabeth died in a fall from a haystack unto a pitchfork in 1907. Here is a list of their children:
Elizabeth Ebel* (died in infancy)
Wilhelm Ebel*
Elizabeth Ebel (Reidlinger)*
Sophia Ebel (Wenzel)*
Katherina Ebel (Bender)
Christina Ebel (Gatchell)
Wilhelmine Ebel (died in infancy)
Wilhelmine Ebel (Bender)
Philipina Ebel (Earll)
Bertha Ebel (Turnbull)
*born in Russia
I am attaching a family portrait of Karl and Christina Ebel and four of their children. Records indicate that they had six sons and possibly one daughter. This photo belonged to my grandfather (Karl Mauch III). He and Karl Ebel were first cousins.
>>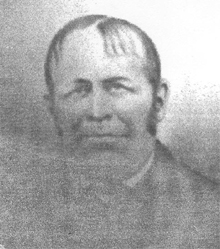 #1 Karl Mauch b. 21 Aug 1819 Worms/Od. S. Russia d. 19 Sept 1900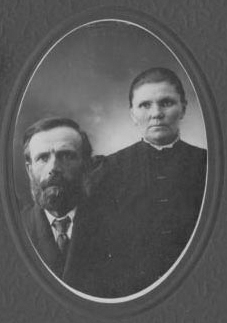 #2 Karl and Anna, nee Fehr, Mauch
#3 Karl and Christina, nee Will, Ebel with their children
[assumed their four oldest]
Phillip Carl Ebel
Oscar Ebel
Herbert Ebel and
Edwin Ebel
[not shown are Ruben Ebel and Carl Henry Ebel]
Karl was the son of Philipp Ebel b. 1 Sept 1853 d. June 1924 Artas,SD and Elizabeth Mauch b. 15 Feb 1862 Worms, S. Russia d. 9 Jan 1907 Artas,SD

See Ludwig Ebel m. Christine Pfaff section

Pfaff Family
Letter June 19, 2004 from: patsychristman@msn.com
Viewed your website containing info on Margaretha Pfaff married to Christian Andreas Christmann. Confused about entry re Margaretha Pfaff also shown married to Wilhelm Christmann. My info shows Wilhelm to be Margaretha and Christian's first child born November 29, 1858. Their second child Daniel, born December 30, 1859 was my husband's grandfather. I believe I have talked to you sometime ago regarding Christian and Margaretha's family. Would like to hear from you again at your convenience.

In a message dated 8/5/04 8:21:50 PM, Lynda Edwards, goedwards2000@yahoo.com writes:
Ran across your awsome web site while looking for my husbands grandparents: Adam Sieler. Never expected to come across such extensive data on the Pfaff family. Magdelena Pfaff b. 1819 married to Adam Sieler would be the my husbands great-great- grandmother. I haven't quite figured the connection between everyone as yet but am looking forward to that project. I plan to return to your site many times and absorb all the wonderful info you have on the Russian heritage. Thank you for the many hours and effort you have put forward and the generousity of sharing with us wanna be genealogists.
I also ran across a web site on the Adam Sieler Family. That is where I made the connection with the Pfaff family. It has been my lucky week , for sure. Thanks again
Lynda Edwards

In a message dated 9/24/04 1:45:29 PM, jackmse@charter.net writes:
This is out of the Flasher 75th Jubilee Book: Magdalena Pfaff m. Sebastian Hopfauf
Sebastian Hopfauf was born September 15, 1854, in Karlsruhe, S. Russia, the son of Peter and Magdalena Ressler Hopfauf. He married Magdalena Pfaff, born May 23, 1858, in Karlsruhe, S. Russia, the daughter of Joseph and Anna Marie Hopfner Pfaff.
Sebastian, his wife and their 10 children left Schomodudlski in the fall of 1903 and came to the USA. They lived in Mandan over the winter and the following summer they and five of the children moved in with the John Friesz family in the Oak Coulee area until a two room stone house could be built on their own homestead. That fall he and some of the boys cut trees near the Heart River to be used as rafters for a lean-to with a grass roof onto the side of the house. They had three horses and one cow.
The following year they started to break land; they brought the stones they found in the fields home to be used for building. Magdalena wanted a summer kitchen built but they didn't have the time so she started to build it by herself. She completed one side of the building herself.
Their children were:
Phillip, born 1880, married Barbara Winchell(Phillip was 23 years old when they came to America, he was sent back to Russia, because he had trachoma. He then came back to America about a year later. Homestead land was saved for him by putting it in Anna's name.)
Evenia, born 10 jun 1882, married Liborius S. Friesz
Anna, born 1883, married Martin Winchell
Pauline, born August 4, 1885, married Joseph Babel
Stanislaus, born 23 November 1888, married Emilia Leingang
Katherine, born 26 september 1890, married Alfred Helbling
Perpetua, born 18 sep 1891, married Charles Renner, then to Emil Ferderer
Peter, married to Mathilda Kautzman
John, born 5 may 1896, married to Wilhelmina Hellmen
Mathilda born 22 jul 1901, married to Louis Schafer
Mrs. Mathild Schafer is the only child still living. She lives in Bismarck. She was only two years old when they came to America and they kept their money in her bonnet for safe keeping while traveling
Sebastian died may 24, 1919 and Magdalena died 7 January 1949. Their homestead buildings still stand today and are still in use. Four generations have lived in the original stone homestead house.
John Hopfauf
John Hopfauf was born in Karlsruhe, S. Russia on 6 May 1896. In the fall of 1903, at the age of 7, he came the USA with his paents, Sebastian and magdalena Pfaff Hopfauf, his 9 brothers and sisters. They homesteaded in the Oak Coulee area.
He married Wilhelmina Hellmen on 25 January 1921. She was born 22 Oct 1897, in the St. Joe area, south of Glen Ullin. She was the daughter of Jacob and Margaretha Doll Hellmen.
They lived on the farm until 1950, when they moved to Mandan, until November of 1971, when they moved to a nursing home in Dickinson, John died March 24, 1975. In June of 1976, Mrs. Hopfauf moved into the Mandan Villa in Mandan.
They are the parents of 9 children.
Rose, born 27 Nov 1921, married to Joseph Helbling in 1943, now living in Roseburg, Oregon. They have 4 children
Ann, born 2 Feb 1923, married Ralph Frank in 1947, now living in Wilton, ND. They have 3 children
Jacob, born 4 may 1924, married Margaret Ferderer in 1948, novw living in Mandan, ND. 9 children
Ralph, born 14 Mar 1927, San Diego, CA
Veronica, born 14 Mar 1927, Bismarck, ND
Josephine, born 11 May 1931, married Alphonse Stein in 1951, living in Phoenix, AZ. 4 children
Hildagard, born 5 Sep 1932 married Maynard Klos in 1960, living in San Diego, CA . 3 children
Richard, born 8 Dec 1935, Flasher, ND
Joe, born 12 Dec 1936, married Dianne Frohlich in 1963, living in Flasher. 4 children
Stanislaus Hopfauf
Stanislaus was born November 23, 1888, in Karlsruhe, Russia, to Sebastian and Magdalen Pfaff Hopfauf. He came to America in 1903 with his parents. He lived and attended school in Mandan that winter. The next summer, he moved with his parents to their homestead on the NW1/4 of section 28-136-83. He worked at the neighboring farms as a hired hand and helped build most of the stone and clay buildings between here and Glen Ullin, using a bottle partially filled with water as a level.
He married Emilia Leingang at St. Anthony, june 10, 1913, the daughter of Adam and Frances Bender Leingang. She was born 8 aug 1894, near St. Anthony. After marriage, they lived with the Lib S. Friesz family for some time, then moving to his sister, Perpetua's , after the death of her husband, Carl Renner. About two years later, they bought and moved on Section 19-136-83. There they lived until 1952, when they sold the farm to their son-in-las, Raymond Eckroth, and moved to Mandan.
Emilia died 13 Aug 1957, after a lengthy illness. On 8 April 1961, Stanislaus married Minnie Barth Buckhardt Erhardt. Stanislaus died 10 April 1963.
There were 16 children born to them.
Magdelene, born 13 Mar 1914, married Jacob Hellman and lives in Mandan. They had 8 children: Angeline, Mrs. Jack Doll; Lorraine, Mrs. Tony Schirado; Lillian, Mrs. Leo Johs; Duane; Arther; Janice, Mrs. Roger Bond; Terry; Mary Ann, and there are 22 grandchildren.
Catherine, born 18 march 1915, married Joe Erhardt and live in Mandan. They have 4 children: Gladys, Mrs. Leo Leingang; Rosalee, Mrs. Kenneth Mosbrucker; Marcus and Marvin. They have 11 grandchildren.
Mary, born 18 Mar 1915 and died 3 Jun 1915.
Eva, born 28 aug 1916, married Adam Bernhardt and live in Yakima, WA. They have 4 children: Robert; Richard; Karen, Mrs. Peter Vandenburg, and Nanette, Mrs. Terry Banning. They have 7 grandchildren.
Tony, born 2 Dec 1917, married Frances Friesz and lives in Mandan. They have 8 children: Maxine, Mrs. Bob McClinn; Ronald; Nick; Bernadette, Mrs. Kenneth Miller; Gerald; Janet, Mrs. Gilbert Thompson; Timothy and Kevin. They have 8 grandchildren.
Adam, born 10 july 1919, and died 5 july 1928.
Rose, born 29 Mar 1921, married Xavier Bohl and lives in Flasher. They have 11 children: Patricia, Mrs. Ted Loeb; Arnold; Kenneth; Burnetta, Mrs. Lawrence Erhardt; Andrew; Raymond; Kathleen, Mrs. David Barclay; Francis; Donald; Valerie; Leo and 13 grandchildren.
Ralph, born 2 aug 1922, married Katherine Friesz and have 2 children: Gerald(Bullinger) and Paulette. They have 1 grandchild.
Genevieve, born 12 Dec 1924, married Peter Eckroth and live north of Flasher. They have 8 children: Diane, Mrs. Raymond Berger; Roger; Robert (Bullinger); Dennis; Doris, Mrs. Donald Schmidt; Wayne; William; Danielle; Michael; and 9 granchildren.
Leo, born 23 July 1926, married Josephine Friesz and live in Baker, MT. They have 4 children: Thomas; Edwin; Loretta, Mrs. Rocky Graham; and Anthony (Bullinger). They have 8 grandchildren.
Pepetua, born January 31, 1928, married Anton Bullinger on September 23, 1947, and died October 4, 1954. They had 5 children: Robert; Anthony; Gerald; Gregory and Cynthia, Mrs. Lane Rose.
Frances, born 16 April 1929, married George Bohl and live in Flasher. They have 7 children: Andriette, Mrs. Gerald Bonogofsky; Jarmin; Carlotta; Darrell; Dale; Brian; Roby; and 3 granchildren. Stepchildren: George Bohl, jr. and Marilyn, Mrs. Larry Hepper.
Clementine, born 5 Feb 1932, married Eugene Volk and live near Raleigh, ND. They have 12 children: Clair; Claud; Clarence; Jeffrey; Joletta; Jordan; Deven; Denise; Dion; Loran; Lowell; Lora; and 1 grandchild.
Agnes, born 21 Jan 1933, married Raymond Eckroth and live on the family farm. They have 7 children: Rodney; David; Daniel; Jolene; Stephen; Laure and Craig.
Florian, born 29 Jul 1934, married Virginia Diess and live in Wibaux, MT. They have 5 children: Debra; Brian; Valerie; Lois and Ricky. Now married to Kay Sletten, she has 4 children.
Loretta, born 23 May 1936 and died 29 May 1936.
Louis J. Schafer and Mathilda Hopfauf
All ten of us, six girs and four boys, have fond memoried os the days on the farm 7 miles northwest of Flasher. Times were not easy, we had to work hard and our clothes weren't fancy, but we always had plenty to eat. I recall how we ate three and sometimes four loaves of Mon's bread after coming home from school, three miles with wagon and team.
My mother, born mathilda Hopfauf, came to America with her paents, Mr. and Mrs. Sebastian Hopfauf, in 1903 when she was two years old. They homesteaded near Fallon, where she grew up as the baby in the family with four brothers and five sisters.
Presentyl living in Bismarck, ND, she will be 75 years old in July and is the only one of the 10 children who survives.
My father, Louis J. Schafer, came over from Russia with his parents, Mr. and Mrs. John Schafer, in 1907, when he was ten years old. They settled near Fallon, where he grew up with 4 brothers and 4 sisters.
We spent many evenings listening to his takds about life in Russia and the trip to America. What puzzled us most was the true story of a couple who sold their two year od boy for a few hundred dollars, just before the ship landed in America. Mom and Dad were married at Fallon in 1921. They moved northwest of Flasher where they farmed and raised 10 children:
Ann, Mrs. Casper Scholl, Raleigh, ND
Helen, Mrs Edward Helbling, Sterling, ND
Rosie, Mrs. Joe Storellie, Fresno, CA
Bertha, Mrs. Harold Paul, Fresno, CA
Julia, Mrs. Leo Beckler, Bismarck, ND
Maggie, Mrs. John Fleck, Bismarck, ND
Tony, Dickenson, ND married Irene Johnson
Edward, Fresno, CA married Gloria Pinya
Thomas, on the home farm at Flasher married Angelita Koch
Frank, Bismarck, ND married Marlene Miller
In 1944, they moved into the town of Flasher to make it easier for the young children to attend scholl. With Dad's health failing, in 1969, the moved to Bismarck, where he passed away in August, 1970
This was in the Mandan News this year June 24, 2004. There is a two page spread about the Hopfaufs Homestead. With 6 pictures. On 4th of July they held a big family reunion on the farm, with over 300 people attending. If you would like a copy let me know. and give me your address. There are 2 different Flasher books and I can copy the information from them and also send it.
Jackie Schafer Eggen

message from Tom Christman[n] adelletom@aol.com dated 12 Feb 2005:
Myh name is Tom Christman and I live in ___ Texas. I happen to notice your web site as I looking for more info regarding my family history (Christmann). I do have some information regarding Christian Andreas Christmass who married Anna Margaretha Pfaff on Marach 4, 1858 in Freudental, Russia. Christian was the son of Andreas Freidrich Christmann and the grandson of Valentine Christmann. I also have more infomration about the Christmann acestors mentioned here if you are interested. My records from Freudental show that Christian and Anna had 8 children and I have birth dates on all of the.
I don't have anymore info on the Pfaff side, but am happy to share any Cnhristmann info you might in interested.
Tom Christman[n]

message from Katherine Willis, KurtKathKris, dated 4 Feb 2005:
...I am a shirttail relation of Paul TRIEPKE (Feb 10, 1880- 22 Jan 1957) who married Frideicke PFAFF in 1904 La Moure County, North Dakota. I am interested in finding Paul's birhplace in Posen Province, Prussia. He is my great-grandmother's nephew. Have you run across that information.
Sincerely, Katherine Willis...

Hi,
I have spent years trying to get some answers about my great grandmother's family left behind in Russia when she came to America in 1914. She left behind her parents and several sisters and brothers and I don't know what happened to them after about 1920, if they were exiled, migrated, etc. Please, is there any way someone can help me find out what happened to them and maybe by some miracle help me find any living family descended from them. Please!!!!
This is the information:
My great grandmother, Johanna Maria ENGEL, was born in March 25, 1891. Her parents were Matthias (Matthaeus, Mathias) and Dorothea (maiden name Moritz)
ENGEL who were married in village of Alt Freudental, (Freudental, Freydental) Russia in 1883/4. She left for America in 1914 and her parents and several siblings were left behind in Russia. She had two sisters, one was named Sofia, born around 1884? and she married a Wilhelm Pfaff. She heard from her a few times in letters and then nothing ever again. Her other sister was Bertha who was born in 1900 and married a Anton Len and had a daughter named Erna born May 11, 1930 who possibly went to Germany. Her brothers were Edward who came to America, Carl who came to America, Matthias II, Wilhelm, Heinrich, Paul (who married a Christine Jauch) all were left in Russia and I do not know what happened to them.
I do not know what happened to her remaining family, no death dates, no known migrations. Please if anyone could do a little research for me on my ENGEL family from the former village of Alt Freudental (Freudenthal, Freydental) in former South Russia, Black Sea region, now Ukraine, please please contact me at _enea59@aol.com_ (mailto:enea59@aol.com) .
Thank you from the bottom of my heart.
Sincerely
Rene' Urdahl
397 Ann Court
Livermore, California 94550-5217
USA
_enea59@aol.com_ (mailto:enea59@aol.com)
California, United States of America

In a message dated 11/16/05 10:50:55 PM, abjorgo@earthlink.net writes:
Hello:
My name is Ann Elizabeth Bjorgo. I am the great granddaughter of Elizabeth Pfaff Reiser of Bridgewater SD. My mother, Lucille Boos
Bjorgo is the granddaughter of Elizabeth Pfaff Reiser, and the daughter of Lydia Reiser Boos.
I am one of 3 children of Lucille Boos Bjorgo, and I live in Seattle WA. I spend a fair amount of time in Bridgewater SD, as my mother is in a nursing home there. In fact, the Reiser home, where my mother and her siblings were born is still there.
I have a number of photos of my great grandmother and her sisters.
Let me know if you would like some copies for your research.
Ann Bjorgo

---

See Karen Abel's letters
---
| | | | | | | |
| --- | --- | --- | --- | --- | --- | --- |
| | | Borodino Home Site | Remmick Home Site | Hubert Home Site | | |