Remmick: German Emigration to Borodino, Bessarabbia, Russia: 1812-1840s.
Last Updated: 12 May 2014
Bessarabian History continuted......
"A" to

"Z"
List of Borodino Families and Their Genealogy to the Present
Click on logo and it will take you to each individual mention in this section.
----
BORODINO COLONISTS' ORIGINS
+


PLACES

Villages, towns & cities in which some
Borodino /Bessarabian German-Russian Colonists
lived before migrating to Russia
A / B / C / D / E / F / G / H / I / J / K / L /
M / N / O / P / Q / R / S / T / U / V / W / X / Y / Z
A / B / C / D / E / F / G / H / I / J / K / L /
M / N / O / P / Q / R / S / T / U / V / W / X / Y / Z
WEST, EAST and NEW EAST PRUSSIA
A / B / C / D / E / F / G / H / I / J / K / L /
M / N / O / P / Q / R / S / T / U / V / W / X / Y / Z
(3) PLACES IN MECKLENBURG & POMERANIA
A / B / C / D / E / F / G / H / I / J / K / L /
M / N / O / P / Q / R / S / T / U / V / W / X / Y / Z
(4) PLACES IN ALSACE (ELSASS), FRANCE & Other Places

Abrevations to Places Used In This Web Site
THEY are:
A.= Alsace [now in France]
A.H.= Aust.-Hung. = Austria Hungary
Ba .= Baden, Germany
Bay = Bayern = Bavaria, Germany
Bav. = Bavaria, Germany see Bay.
Bel. = Belowesh, Russia
Bess. = Bessarabia, Russia [Moldavia; Rumania], in in Urkaine
Cr. = Crimea s. Kr.
Cau. = Caucasus see Kau.
Da. = Danzig, E. Prussia [Russia]
Dnj. = Dnjepropetrowsk, Russia
E. Pr. = East Prussia [Germany] s. Opr.
El = Elsass = Alsace, Germany [now in France]
Eng. = England
G. = German
Ger. = Germany
Gr. = Grunau, Russia
G.S. = German State
He. - Hesse, Germany
Kr. = Krim = Crimea, Russia
Kau. = Kaukasus = Caucasus, E. Russia
Nor. = Norway
Od. = Odessa, S. Russia
Opr. = Ostpreussen = East Prussia [Germany]
Pe = St. Petersburg [Leningrad], Russia
Pf. = Pfalz = Palatinate, Germany
Po. = Pol. = Poland
Po. Duchy of = Poland, Duchy of
Pom. = Pommerania, Germany
Pr. = Prussia
Rhh = Rheinhessen = Rhine-Hesse
Rum. = Rumania = Roumania
Russ. = Russia
Sam. = Samara
S. [= Southern], Russia [there was not an area actually called S. Russia but refers to the Southern part of Russia settled by the Black Sea and Bessarabian Germans in the early 1800s]
Sa. = Sachsen = Saxony-Anhalt, Germany
Tau. = Taurien, Russia
Uk. = Ukraine, Russia
UK = United Kingdom of Great Britain
USA = U.S.A. = United States of America
U.S.S.R. = United Socilaist Soviet Republic [Russian Soviet Federated Socialist Republic] , The communist country of the
W. = Wolgagagebiet = Distric of the Volga, Russia
Wpr. = Westpreussen = West Prussia
Wu. = Wuerttemberg [Wurttemberg], Germany
---
German States in Modern Times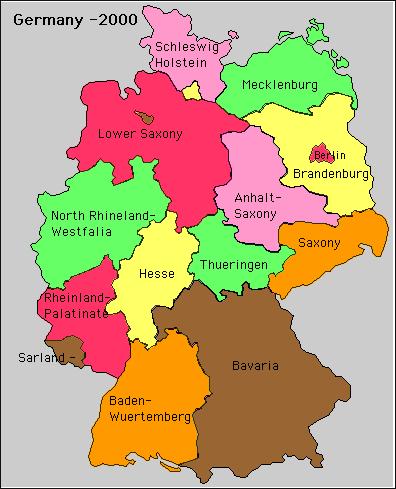 PLACES In GERMAN STATES

(under construction)
Place names found during research on the German-Russian colonists of Borodinoians from the area we presently know as Germany.
There are errors at this time since I'm just getting the data gathered, so, when you find a error please contact me:
remmick@aol.com
I'll be happy to have a discussion and change whatever needs to be changed.
Different countries call Germany or the old German states by varying names. In German the country is called "Deutshland". In Scandinavia the area is known as "Tyskland". In French it is called "Allemagne" . In Poland it is known as "Niemcy". In Finnish it is "Saksa" and in Lituanian it is called "Vokietija".
MAPS: See Section on Historical Maps Pertaining to German Territories, Kingdoms, etc.
Page One: A/B/C/D/E/F/G/H/I/J/K/L/
Page two: M/N/O/P/Q/R/S/T/U/V/W/X/Y/Z
Aalen (City of)/ Ostalbkreis (Ostalb Dist.), Baden-Wuertttemberg. Location. History. Dating back to 8th and 5th BC lived the Meslithic settlements in this area. They left traces which include tools made of flint. Behind Kocherburg castle there was found traced of humans living there during the Bronze Age. The Celtics fortified the Schlossbaufeld settlement. Along came the Romans after they abandon the Lines Line around 150 AD and set up camp and then a town in 150 AD and it became part of the Roman Empire and the new line known as "Rhaetian Limes". The Roman cavalry unit "Ala II Flavia milliaria" were housed here and the remains of this is called "Kastell Aalen". Forced to retreat, the Romans gave up the for t and moved bank to the Rhine and Danube Rivers. Once the Romans left historians loose sight and knowledge of this area until the Middle Ages. In this area a village of Hammerstadt is mention in 839 but Aalen is not directly mentioned until in 1136 along with a man by the name of Conrad of Aalen. In 1214 to 1246 it's told the House of Hohenstaufen founded the town of Aalen. The area was gained by the Count of Oettingen who exchanged Aalen for money from the House of Wuerttenberg in 1358 or 1359. Village was destroyed in 1388 during the war between the Dukes of Bavaria and the Alliance of Swabian Cities. On 3 Dec 1360 Emperor Charles IV of the Holy Roman Empire. Charles IV declared Aalen as an Imperial free city which it kept until 1803. Reformation resulted in Aalen's major change from Catholic to Protestant which was followed by the Thirty Year's War during which resulted in Aalen swinging back to Catholic which resulted in the Protestant Union and afterwards both were able to worship and practice in Aalen together. 1634 proved just as difficult for the townspeople as. War and soldiers destroyed most of the city. The Swedes, Benard of Saxe-Weimar army and the Croatians looted what was left. During the Nine Years' War (1688) French troops enter Aalen and took their turn looting and destroying the town. The French marched through, again during the War of the Spanish Succession in 1702 and again during the War of Austrian Succession in 1741. The Imperial troops marched through in 1743,,, With the Catholic and Lutherans still in conflict it was ruled that both would have joint rule.... During the War of the Firs Coalition (1796) Aalen was looted. One has to wonder what there was to loot by this time. Anyway, in 1801 the Treat of Luneville lead to the Germans Mediatisation in 1803 giving Aalen to the Electorate of Wuerttemberg, which became part of the Duchy of Wuerttemberg and later the Kingdom of Wuerttemberg. Then came the War of the Third Coalition. On 6 Oct 1805 Napoleon arrived in Aalen with 40,000.... Two days later the Austrian and Bavarian troops moved into town as the French left... According to wikipedia the town clerk is credited in saying: "no feather could describe" what was happening to Aalen. In 1811 the municipality of Unterrombach was formed which merged parts of Aalen and territory of the Barons of Woellwarth. Napoleon was defeated. The town walls, gates and towers fell into disrepair. Then the stones were taken and used elsewhere... The fortification vanished....~

Aich n. Worms/ ___, Pfalz [= Eich / Alzey-Worms (am der Rhine) Dist., Rhineland-Palatinate] Often times "A" and "E" are interchangable. Eich and Aich are the same place. It is located north of Worms next to Biblis on the south, Riedstadt on the north and farther to the west is Alzey. Dates bach as far as 782 as a fishing village. ~
Margaretha Stickle b. 14 Feb 1822 Aich n. Worms/ ___, Pfalz m. Jakob Speidel b. 30 Dec 1820 Borodino / Bess
Adam Nickel b. 16 April 1786 Aich / Worms, Pfalz) m. Charlotte Becker b. Jan 1788 Mettenheim / ___, Pfalz
Adam Hess b. 27 Oct 1781 Aich / Worms, Pfalz d. 12 Dec 1853 . Barbara Springling b. 1786 Aich / Worms, Pfalz
Barbara Schweikert b. 16 Jn 1805 Wuerttemberg/ Germany d. 29 Dec 1873 Aich/ Wuerttemberg, Germany, m. 21 July 1833 to Johann Abraham Knecht b. 8 July 1764 Solingen-Pilghausen/ _____. He was a "Messerschmied".
Thee is a Aich just north of Oberpframmen and south of Wolfersberg. Both are in the Ebersberg Dist., in Upper Bavaria (=Bayern) Hofenkirchen is the the west. East is Moosach and Grafing. South east and abt 24 km is Munich. South is Hohenkirchen-Siegertsbrunn and Egmating. Neubiberg is north northwest about 10 km.

Aichberg, Goeppingen-Wuerttemberg [Aichelberg / Goeppingen Dist., Baden-Wuerttemberg] which is located southwest of Goeppingen. To the west is Kirchheim unter Teck and to the east is Boll and Dumau. To the south is Weilheim an der Teck.
Christian Haberer b. 1801 migr. fr. Aichberg, Goeppingen-Wu,
----
Aichberg / n. Hornberg, Rottweil Dist., Baden-Wuerttemberg (See Eichberg) It is near Hornberg and Hohrbach on the edge of the Black Forest.
Matthais Haberer b. 10 Feb 1800 Aichberg / n. Hornberg, Baden-Wuerttemberg d. Borodino / Bess., S. Russia, son of Johann Gorg Haberer and Anna Catharina Roeck. Hornberg is in the Calw Dist., however, Aicherg and Rohrbach are in the Rottweil Dist., Baden- Wuerttemberg

Ainingen / __, Wuerttemberg [Ainingen (??)] NOTE: I assume someone miss typed, which, unfortunaely, I am often guilty, and the village name may be Ensingen. Tracking down other Stumpp/Stumpf family members I believe the village is Ensingen since Stumpps are listed as having migr. from Unterensingen (Unter.Einsingen = Under Ensingen)/ Nuerteingen, Baden-Wuerttemberg. Also, sometimes "A" can be "E" as it is for Aich / Eich village.
Christian Scherer b. 25 Dec 1834 Alt Posttal / Bess, son of Gottfried Scherer (b. __ Erzgrube/ Freudenstadt, Wuerttemberg) and Chistine Stumpp / Stumpf (b. 17 June 1797 Ainingen / __, Wuerttemberg) m. Margaretha Nusshard b. 6 July 1844 Borodino / Bess
Johann, Stumpf fr Untereinsingen / Nuertingen via Aldingen / Boeblingen, Wu. to Alt-Postal / Bess., S. Russia, son of ___ m. Christine __NN__
Johann Georg Stumpp b. 7 Nov 1698 Unterensingen, Wu., son of Thomas Stumpp (b. 15 Dec 1667 Unterensingen, Wu) and Anna Margaretha Kraushaar (b. 19 Dec 1670 Unterensingen, Wu.) .m. 24 Oct 1724 Unterensingen, Wu to Barbara Schmid b. 22 Jan. 1701 Unteresnisngen, dau. of Michael Schmid and Maria __NN__.
----
Ensingen [highly likely] / Ludwigsuburg, Baden-Wuerttemberg. Location. North of Vaihingen an der Enz. South east of Schuetzingen. South of Zaberfeld. North west is Horrheim and Hohenhaslach. Southeast is Sachsenheim.

Alb-Donau (Danube) Dist, Created in 1973

merged the districts of Ulm and Ehingen.

Baden-Wuerttemberg

Towns

Blaubeuren
Dietenheim
Ehingen
Erbach
Laichingen
Langenau
Munderkingen
Schelklingen

Municipalities

Allmendingen
Altheim
Altheim (Alb)
Amstetten
Asselfingen
Balendorf
Balzheim
Beimerstetten
Berghuelen
Bernstadt
Blaustein
Boerslingen
Breitingen
Dornstadt
Emeringen
Emerkingen
Griesingen
Grundsheim
Hausen am Bussen

Municipalities continued:

Heroldstatt
Holzkirch
Huettisheim
Illerkirchberg
Illerrieden
Laulterach
Lonsee
Merklingen
Neenstetten
Nellingen
Nerenstetten
Oberdischingen
Obermarchtal
Oberstadion
Oellingen
Oepfingen
Rammingen
Rechtenstein
Rottenacker
Schuerpfingen
Setzingen
Staig
Untermarchtal
Unterstadion
Unterwachingen
Weidenstetten
Westerheim
Westerstetten

Aldingen / Ludwigsburg, Wuerttemberg [Aldingen / Borough of Remsseck, Ludwigsburg Dist., Baden-Wuerttemberg] (NOTE: It appears that people who recorded the Reinhardts that some have their place of origin as Aldingen & Altingen.)
Michael Reinhardt b. 16 Nov 1779 Aldingen / Ludwigsburg, Wuerttemberg d. 28 June 1831 Borodino / Bess and Rosina [Sophia] Margaretha Werenwag b. 12 March 1785 Rutlingen / Rutlingen Dist., Wuerttemberg d. 30 June 1831 Borodino / Bess.
Jacob Reinhardt [see Johann Jakob Reinhardt] b. 25/26 May 1752 Aldingen / Ludwigsberg, Wu [Germany] , son of Johann Michael Reinhardt and . Ann Maria Tauregger. m. 8 Nov 1774 Aldingen, Wu. [Germany] to A. [Anna] Barbara Harsch [Haisch] b. 1756 Mulhausen/ Wuerttemberg. [Germany] d. 23 Oct 1786 Aldlingen d. 23 Oct 1786 Aldingen, Wu. [Germany]
Barbara Rommel b. 27 June 1777 Aldingen, Wu. m. Samluel Hahn b. 18 Dec 1865 Struempfelbach, Wu
Aldingen / Tuttlingen Dist, Baden-Wuerttemberg]; location is east of Trossingen, north of Spachingen and south east of Frottomgem and Rottweil. Stuttgart is more than 50 km north and farther north is Ludwigsburg.

Alfinger, Wuerttembrg [Alfinger (??)
Katharina Barbara , nee _____, Motz b. about 1801 d. 31 Oct 1838 Borodino (37years old), # 1882648/2 101 28, migr. from Alfinger, Wurt m. Christoph Motz. There is additional information: Katharina Barbara Weippert b. 1 Oct 1800 Herrenberg / __, Wuerttemberg d. 3 Oct 1838 Borodino / Bess m. 3 March 1821 Kloestitz/ Bess. to Christoph Erhard Motz b. 24 Jan 1796 Horrheim / __, Wuerttemberg, son of David Erhard Motz (b. 26 Sept 1769 Horrheim / __, Wuerttemberg d. 10 Jan 1846 Borodino) and Juliana Katharina Lutz (b. 20 March 1771 Horrheim / __, Wuerttemberg.) Katharina was Christoph's third wife.

Alfdorf / Rems-Mur-Kreis, Baden-Wuerttemberg [Aldorf / Reims-Mur Dist. , Baden-Wuerttemberg] This is another one of those confusing merges of villages. Aldorf came into being in 1972 and there was the merging of two villages: Pfalbronn and Vordersteinberg Therefore, can we assume Hans Steiner was born in either Pfahlbronn or Vordersteinenberg (vor.der.Steinen.berg)? If one uses logic, I would assume they lived in Vordersk since they carried the surname Steiner. The source did not give any additional information. Location: Southeast is Schwaebish Gmuend. Soutth is Lorch. West is Wetzheim. North is Gschend and Murhardt .
Margarethe Steiner b. 1670 Tuebingen / Baden-Wuerttemberg d. 20 April 1693 Lustnau / Tuebingen, dau. of Hans Steiner (b. 1641 Aldorf / Rems-Mur-Kreis, Baden-Wuerttemberg m. 30 June ____ to Hans Stephan Heusel b. 22 July 1657 Lustnau / Tuebingen, Baden-Wuerttemberg (Germany) d. 28 Oct 1711 Lustnau / Tublingen

ALSACE (ELSASS) See the Alsace Listing. "A" to "Z"

Altbach / Esslingen, Wuerttemberg [Altbach / Esslingen Dist., Baden-Wuerttemberg] Location: It is on the southern slope of the Schur forest. Esslinngen is north northwest from Altbach. Plochingen is in the opposite direction abt 1 1/2 km south souhteast. Directly south is Deisisau and Wendingen am Neckar. West is Oberessingen. East is Lichterwald.
Carolina Rebmann b. 15 April 1856, dau. of Friedrich Rebmann (b. 1 Oct 1810) and Barbara Elisabet Lang b. 17 March 1816 Altbach / Esslingen, Wuerttemberg; dau. of Georg Adam Lang b. 24 April 1783 and Eva Katharina, nee Diestel, Rueb b. 21 Feb 1783 Ruit / Stuttgart, Wuerttemberg m. 17 Jn 1886 Kloestitz to Philipp Ost b. 16 Oct 1851 Kloestitz

Altensteig Dist:, Calw Dist., Baden-Wuerttemberg
Altensteig
Altensteigdorf
Berneck
Garrweiler
Hornberg
Monhardt
Sielberg
Ueberberg
Walddorf
Wart

Altingen / Ludwigsburg, Wuerttemberg Altingen (=Aldingen) / Bourough of Remseck/ Ludwigsburg Dist., Baden-Wuerttemberg
Jakob Michael Reinhardt (b. 10 Oct 1784 Altingen / Ludwigsburg, Wuerttemberg d. 16 March 1847) and Katharina Strohmayer (b. 11 May 1787 Urach / ___ Wuerttemberg d. 10 Apil 1852)

Altensteig / __, Wuerttemberg [Altensteig / Calw Dist., Baden-Wuerttemberg], Located in the eastern part of the Black Forest, abt 18 km from Calw, which is southwest, and 19 km from Freudenstadt which is northeast.
Magdalena Schaber b. 1800 n. Altensteig / __, Wuerttemberg m. Philipp Friedrich Neitz b. 14 March 1795 Sulzfeld / Kraichgau, Baden d. 9 Aug 1835 Kloestitiz/ Bess
Agatha Hauser b. abt 1700 d. 1723 Altlenseig/ __, Wuerttemberg m. 17 Sept 1722 Altensteig Wuerttemberg to Johan Philipp Haeussler b. 1685 Altensteig Stadt/ __ Wuerttemberg.
Georg Heim b. 1772 poss fr Altensteig, Wu [Germany] m. (1) unknown; m. 1807; (2) Anna Katarina _______ b. 1784
Ludwig Georg Henne b. 23 April 1772 Badfeld / Calw, Wuerttemberg m. Anna Catharina Pfstelin or Pfluesterle b. 1786 Schischest / __, Prussia d. 25 June 1855 Kloestitz/ Bess. NOTE: In the Stumpp Migr. Bk. it has two Henne men: (1) Georg Henne fr. Rohrdorf /Calw and the other (2) Georg Heine b. 1772 fr. Altensteig/ Calw. Both migr. to Neudorf/ Od., S. Russia. It is probable that Badfeld mentioned is near these two villages which are near each other. And, it is possible that Ludwig Georg Henne and Georg Henne and Georg Henne are the same person. See both villages..

Althengstett / Calw, Wuerttemberg [Althengstett Calw Dist., Baden-Wuerttemberg] Location: Northeast of Calw abt 5 km. North is Simmozheim. East is Ostelsheim. South is Wuerm-Heckengaeu and farther south is Gechingen.
Jakob Friedrich Braun b. 1798 Althengstett / Calw, Wuerttemberg d. 16 June 1861 Borodino / Bess. S. Russia m. 3 Aug 1823 Freudental / Od. S. Russia to Katharina Metzger b. 28 April 1798 Holzgerlingen / Boeblingen, Wuertemberg d. 1 Aug 1865 Borodino / Bess., dau. of __NN___

Alt Nuefa / Egenhausen , Wuerttemberg [Alt Nuifra =Altnuifra-Haiterbach / Calw Dist., n. Egenhausen, Baden-Wuerttemberg] See Egenhausen. Location: West is Neunuifra. Farther west is Freudenstadt abt 19 km. .Southwest about 4 km is Pfalzgrafenweiler and Edelweiler is slightly closer. East and slightly north is Waldorf. East is Rohrdorf which is about 4 km on a flat map.... North is Altensteig. History is not known at this time.
Johann Georg Stickel b. 22 Sept 1802 Alt Nuefa / Egenhausen , Wuerttemberg, son of Christoph Stickel (b. 7 Dec 1761 Egenhausen) and Elisabetha Rauschenberger (b. 23 Sept 1806 Konnstadt / __, Poland) m. 15 July 1824 to Christina Boschatski (stet) b. 23 Sept 1806 Konnstadt / __, Poland
David Hauff b. Switzerland d, 1695 m. (1) widow Maria, nee Mornhinwe, Gutekunst b. 1640 d. 25 Feb 1692 Altnuifra, Wu. , dau. of Hans Mornhinweg and Christina ___ m. (2) Agatha ____. . Maria's first husband was Jacob Gutekunst (b. 1630 Haiterbach, Wu. d. -27 June 1675), son of Michael Gutekunst (1600-1679) and Catharina Helwer (1604-1636). They had five children: Christina (1662-?), Maria Catharina (1668-1738), Han (b. 1673-?), Jacob (1665-1665) and Michael (1671-1737). (Source: ancesstry.com) Desc. migr. to Borodino / Bess., S. Russia
Note: There is a Braun & Sakman families mentioned in Altnuifra and in the nearby village of Haiterbach. An Anges Braun m. Michael Guekunst b, abt 1545, See web site on Gutekunst Genealogy at http://www.gutekunst-archiv.de/Gutekunst_Haiterbach.htm.

Alzey, A Collective Municipality (collection of vllages) in Alzely-Worms Dist. in Rhineland-Palatinate:

Aselfingen / ___, Wuerttemberg [Asselfingen / Alb-Donau Dist., Baden-Wuerttemberg] Location North is Stetten, northeast is Niederstotzingen. Southwest is Rammingen and beyond is Langenau, abt. 5 km, which is 14 km from Ulm. West is Ollingen. . History. See history of Ulm.
Jakob Braun b. 1749 migr fr Aselfingen / __, Wuerttemberg migr. to Borodino / Bess

Auch / Worms, [n. Darmdsatdt], Pfalz See Eich / Alzey-Worms, Rhineland-Palatinate
Adam Hess b. 1781 Auch / Worms, [n. Darmdsatdt], Pfalz and Barbara Springlin b. 1786 Worms / Pfalz.

Auggen / Wuerttemberg [Auggen / Breisgau-Hochschwarzwald Dist. Baden-Wuerttemberg] Auggen is "attacehed" to Hach which is northeast. Auggen is south of Muellheim, north of Schliengen and Basel, which is farther south, east of Ottmarsheim and west of Marlsburg-Marzell and Schoenau im Schwarzald. It in the Markgraeflerland Region, which refers to Margraves of Baden who ruled from 12th century. In 1526 the Margrave became Lutheran (Protestant). Viticulture became important in 1780 when the Swiss introducted a variety of grapes. The hills around Auggen are covered with grapevines and apple trees.
Hans Mueller b. 6 Dec 1640 Auggen / Wuerttemberg d. 13 Dec 1683 Schwenningen / Wuerttemberg m. 15 Nov 1663 Schwenningen / Wuerttemberg to Anna Haller b. 1639 Schwenningen / Wuerttemberg