Last Updated: 13 Jan 2004
List And Brief History of the German States, Grand Duchies, Principalities, etc before 1806.......Page.A. Remmick-Hubert Site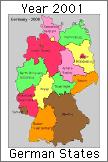 List And Brief History of the German States, Grand Duchies, Principalities from "A" to "Zzzz"

Aachen [Aix-.la-Chapelle). Presently found in area of North Rhineland - Westfalia [Nordhein-Westfalen (Westphalian)]. Was part of the Reichsstadt. Majority was Catholic.

Aalen. Presently found in Baden-Wuertemberg. Was part of the Reichsstadt. Once was surrounded by a small area of sovereignty but fell to Wuertemberg rule. Villagers were subjects of Grafen von Oettingen. Was represented by the Protestant of Ulm...

Adige (Etsch, an der ). Presently in Italy. Earlier was regional administration of the Teutonic Knights. Absorbed by Austria. See Hoch - und Deutschmeister.

Aarburg. Presently in Switzerland [Bezirk Zofingen, Kanton Aargau]. Was earlier a part of Kanton Bern [now, Aargau). Majority had been Reformed church.

Aichheim -Iller. Presently in ______ . Was represented by the Counts of von Rechberg-Roethenlowen, a Catholic family then later by the Counts von Limburg-Stirum. Vote to Reichritterschaft was cancelled (date not given).

Alchhein. Was represented by Counts von Limburg-Stirum and earlier by the Counts von Rechberg. Linked to Iller-Aicheim.

Alschausen. Presently in France. Was earlier a part of the Grafschaft and Landkomtur of the Teutonic Knights [Deutschorden], Ballei Alsace [Elsass] and Burgund [Burgundy]. Member of the Swabian Grafenkolleg

Altenkirchen [Sayn-Altenkirchen]. See Ansbach

Anhalt. Presently in Anhalt-Saxony. . Was a German State [Principality]. Subordinate and associated territories were Zerbst, Herrschaft, Jever in Oldenburg. See Barby and Muelingen. The title of Prince of this area was descended from Margrave Albert "the Bear" [Ascanian Dynasty of Brandenburg] ( b. abt 1100 d. 1170). Later, the branch of Anhalt- Bernburg-Schaumburg ruled. . Represented by Grafschaft Holzappel in the Westphalian Grafenkolleg. It was part of the Protestant corpus at the Treaty of Westphalia and represented the interests of the Palatine Grafschaften Lautern and Simmern afterwards. Joined German Empire in 1871. The Anhalt-Koethen, which was under Dessau family, was the regnant until 1918. Many believe the mercenaries sent to the British King George III [House of Hanover] who sent them to fight the revolutionaries in America were from Herrschaft Jever....

Anholt. Presently in Kreis Borken, North Rhineland-Westfalia. Was earlier Herrschaft and Grafschaft. Represented by the Princes of Salm-Salm, a Catholic Dynasty. In 1810 the area gave way to the French and in 1815 to Prussia. See Brunkhorst.

Ansbach. Presently in Bavaria. Also known as Ansbach-Bayreuth. Grew around the 8th century Benedictine Monastery founded by Gumbertus. Town which grew around it was first known as Onoldsbach. Presently part of Regierungsbezirk Mittelfranken in Bavaria [Bayern]. Capital of Middle Franconia, West Bavaria.... Earlier it was a Marquis State and Principality. Connected to this principality were the estates of Uffenheim, Crailsheim, Feuchtwagen, Gunzenhausen, Schwabach, Abengerg-Cadolzburg, Neustadt-Windsheim, Erlangen and Hof. Represented by the Protestant family of Brandenburg-Kulmbach at the Peace of Westphalia. Ruled earlier by Counts von Oettingen and then in 1331 became the residence of the Franconian branch of the Hohenzollerns who were the Margrave of Nuremberg...... 1791 rule passed to the main branch of Hohenzollerns, who were , also, Protestant [Lutheran], and, kings of Prussia which ended in 1918. . There was within this realm a settlement of Huguenots in Erlangen. Troops were sent to fight in the revolutionary war in America under George III of England.

Aremberg [Arenberg], Dukes of [House of Ligne] who owned a great deal of land: Duchy of Arenberg-Meppen in Hanover, property in Belgium and France. Family was an ancient family of Hainaut. and Catholic.
There was a Prince Charles Joseph de Ligne (1735-1814) who was a Field Marshal of Austria.

Aspremont [Aspermont]. Was part of the Leiningen Dynasty. See Reckum [Reckheim].

Augsburg. Presently part of the Reigierungsbezirk Schwaben of Bavaria. Bishops of Augsburg was represented by Osnabrueck in the Catholic corpus at the Peace of Westphalia. As a member of the Reichstadt it stood alone. The Protestants were represented by Esslingen when part of the Reichstadt. After 1548 all religious properties were administered jointly by both the Catholic and Protestant communities. Founded under Augustus 15 B.C. as Augusta Videlicorum... established by Drusus as his military camp.... Here begins the old Maximilianstraass [old Roman road between Germany and Italy].... 1276 became a Free Imperial city.... which it lost in 1805... 1806 became part of the new Kingdom of Bavaria... Member of the Swabian League (1488-1534).... Capital of Swabia, West Bavaria....

Aulendorf. Presently in Kreis Ravensburg / Baden-Wuerttemberg. Majority of the people were Catholic. See [Catholic branch of Trenck] Koenigsegg-Aulendorf of Koenigsbronn..

Austria (Oesterreich ). See Oesterreich....
-
A / B / C / D / E /F / G / H / H2 / I /J / K /L /M /N /O /P /Q /R /S /T /U / V
| | | | | | | |
| --- | --- | --- | --- | --- | --- | --- |
| | Remmick German Facts - Index Page | Hubert Home Site | Remmick.Home.Site | | | |