List And Brief History of the German States, Grand Duchies, Principalities, etc before 1806.......Page J. Remmick-Hubert Site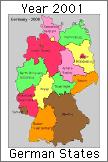 List And Brief History of the German States, Grand Duchies, Principalities, etc before 1806 continued......
J

Johannitermeister (Master of the Maltese Knights) The master was the represented to the Deutschorden (Teutonic Knights) in the Catholic corpus at the Pace of Westpahilia, however, one would suspect most of the knights, who were in Brandenburg, who's ruler had turned to the Reform Church, were Protestant. In 1811 when the Elector of Brandenburg [Hohenzollern] withdrew from the Teutonic Order, which was and remained Catholic, the Elector dissolved the regional order in Brandenburg (Duchy of Prussia). See Deutschorden (Teutonic Knights ) for farther data..
History: Knights of Malta came into being c. 1530 when Emperor Charles V gave the Knights of Hospitalers, who were members of the military religious Order of St. John of Jerusalem also known as the Knights of Jerusalem, the Island of Malta which they had defended from the Turks. After 1571 they became a charitable hospital work. Napoleon took the Island of Malta in 1798. Remnants survived but were scattered about in Europe. In 1879 the Pope reconstituted the order....

Juelich and Berg. Presently Juelich is in Nordrhein-Westfalen. The Duchy of Juelich lay between Cologne and Aachen. It united with Berg in 1348. The Duchy of Berg's capital was Duesseldorf. The families of Juelich-Berg held the following estates: Monschau, Randerath, Euskirchen, plus the Grafschaft of Heinsberg and Kleve. Their vote in the Riechstag was not exercised due to a controversy among the Kursachen (Saxony), Kurbrandenburg and Pfalz-Neuburg over a controversy over inheritance.... After the ext. of the Juelich line both Juelich and Berg passed to the Dukes of Cleves in 1524. The property then passed to Pfalz-Neuburg in 1666. In 1777 the family came into a personal union with Bavaria, the branch of the Wittelsbach Dynasty of Bavaria In 1794 to 1814 it was occupied with French troops. After 1814 it was administered by Prussia (Hohenzollerns).

Justingen. See Stoeffeln and Justingen.
-
A / B / C / D / E /F / G / H / H2 / I /J / K /L /M /N /O /P /Q /R /S /T /U / V
| | | | | | | |
| --- | --- | --- | --- | --- | --- | --- |
| | Remmick German Facts - Index Page | Hubert Home Site | Remmick.Home.Site | | | |