Last Updated: 13 Jan 2004
List And Brief History of the German States, Grand Duchies, Principalities, etc before 1806.......Page C. Remmick-Hubert Site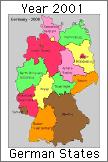 List And Brief History of the German States, Grand Duchies, Principalities, etc before 1806 continued......

Castell. Was in Kreis Gerolzhofen, Reigierungsbezirk, Unterfranken of Bavaria. Was Grafschaft. Member of Fraenkische Grafenkolleg. Castell family of counts was divided into: (1) Castell-Castell who were Protestant and (2) Castell-Ruedenhausen who were Protestant and Catholic. Grafschaft Castell held tenancy from Wuerttemberg ... Family was only on the personal list of the Reichsadel. The family held control of three territories and 28 villages (Flecken). Became part of Bavaria in 1901.

Chalon. Presently Chalon-sur-Saone in France. Was Grafschaft. Possession of Burgundy in 1237.

Chiemsee. Presently in Bavaria. Was a bishopric then absorbed (landsaessig) by Archbishopric of Salzburg. In 1803 secularized.

Chur. Presently in Kanton Graubuenden in Switzerland. Former bishopric. Was represented by Osnabrueck in the Cahtolic corpus at the Peace of Westphalia... Joined Swiss Confederation in 1648, however, the Catholic bishop remained a member of the Reichsstand even though no lands were held in any German states....

Colloredo, Princes of . Connected to the Estates of Freiherrschaft of Waldsee (Wallsee). Member of the Schwaebische Grafenkolleg. The family branch of Colloredo-Mannsfeld [Mansfeld] was Catholic. After 1792 the family held no estates under the Kaiser and were Reichsadel.

Colmar. Presently found in the Department of Haut-Rhin in France. Was earlier Reichsstadt and member of the Protestant coprus at the Peace of Westphalia. Had belonged to the Landvogtei Hagenau but became French after 1648.

Cologne (Koeln) See Koeln for information...... Presently in North Rhineland-Westphalia....

Comburg Estate. Was a prelate nulllius. Seized by the Wuerttemberg and this action was approved by the Imperial Court (Reichskammergerich) in 1587.

Constance ( Konstanz ) See information under Konstanz.....

Corvey. Presently called Hoexter and found in North Rhineland-Westphalia. Was earlier Prince-bishopric, prelate nullius and a duchy. Ruled by the Hereditary Prince of Orange-Nassau until secularized in 1803. It became a part of the Kingdom of Westphalia by Napoleon's actions. In 1815 became part of Prussia. The domain estate was formed in 1820-1823..... and became known as the Principality of Corvey. In 1834 the territory was transferred from the family of Hessen-Rotenberg to the Princes of Hohenlohe-Schillingsfuerst, who after 1840 became Dukes of Ratibor, Princes of Corvey.
-
-
A / B / C / D / E /F / G / H / H2 / I /J / K /L /M /N /O /P /Q /R /S /T /U / V
| | | | | | | |
| --- | --- | --- | --- | --- | --- | --- |
| | Remmick German Facts - Index Page | Hubert Home Site | Remmick.Home.Site | | | |