List And Brief History of the German States, Grand Duchies, Principalities, etc before 1806.......Page E. Remmick-Hubert Site
Last Updated: 20 Feb 2004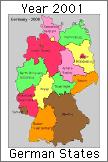 List And Brief History of the German States, Grand Duchies, Principalities, etc before 1806 continued......

East Friesland (Osterfriesland or Emden or Emsland)

Eberstein. In Murgtal in Baden. Was a Graftschaft. Member of the Grafenkolleg. Represented by Baden-Baden.

Echternach. Presently in Luxemburg. Was a prelate nullius. Taken by Burgundy.

Eggenberg. Presently in ______?__ [poss Austria].... 1717 vote cancelled in Reichstag....

Eglingen. Presently in Kreis Heidenheim in Baden-Wuerttemberg. Was Herrschaft. Represented by Counts von Grafeneck until 1788m then by Princes von Thurn and Taxis who were Catholic. In 1806 was absorbed by Wuertemberg. 1810 became part of Bavaria's holdings.

Eglof. Presently in Upper Swabia (Baden-Wuerttemberg?). Was Herrschaft and Grafschaft. Member of Schwaebishe Grafenkolleg. After 1668 was represented by the Counts of von Abensberg and Traun. 1804 represented by Princes von Windisch-Graetz. 1806 absorbed by Wuerttemberg. During this time, the peasants held certain liberties and rights of self governing due to special privileges granted to them since the middle ages.

Egmont and Iselsstein. Presently in the Netherlands. Was Grafschaft. In 1648 became Dutch. Reichstag vote cancelled..... See Iselstein.

Ehrenfels. Presently in Rheigaukreis in Hessen near Ruedesheim. Was Grafschaft. 1766 became a member of Grafenkolleg. Connected to the Elector of Palatinate (Kurpfalz) ....

Eichstaedt Estate . Presently in Mittelfranken in Bavaria. Was bishopric. Connected to the estates of (1) Beilngries, (2) Herrieden, (3) Ornbau, (4) Pleainfeld and the (5) Hirschberg Erbe. Represented by Osnabrueck in the Catholic corpus at the Peace of Westphlia. 1803-1806 became Bavarian and secularized. 1817-1855 parts of this territory were included in the Duchy of Leuchtenberg. After 1817 the bishopric was merged with Bamberg.

Einsiedeln. Presently in Kanton Schwyz in Switzerland. Was prelate nulius. Became part of the Swiss Confederation and at that time the vote in the Reichstag was cancelled.

Elbing. Presently in Poland. Was part of East Prussia under the Hohenzollern rule after 1772.... Was part of the Reichsstade. Predominantly Protestant until 1945. The city archives, evidently, remained intact and were not destroyed during WWII.

Elchingen. Presently in Kreis Neu-Ulm, Regierungsbezirk Oberschwaben in Bavaria. Was prelate nullius. In 1802 a Benedictine Abbey was secularized.

Ellwagen. Presently in Kreis Aalen in Baden-Wuerttemberg. Was Prince-bishop and prelate nullius. Represented by Augsburg in the Catholic corpus at the Peace of Westphalia. The Duchy of Ellwangen was secularized in 1802.

Elsass (Alsace) and Burgund (Burgundy). See Alsace and Burgundy. Presently in France. Was a regional administration (Ballei) of the Teutonic Order (Deutschorden). See Hoch- and Deutschmeister.

Emden. See Ostfriesland (East Friesland also known as Emsland ). Presently in Lower Saxony.

England, Kings of. See House of Hannover, Diepholz, Hoya and Spiegelberg.

Eppstein. Presently in Main-Taunus-Kreis in Hessen. Was Grafschaft. When the Eppstein family became extinct in 1535 the lands were divided among Hessen, Trier and Stolberg. See Koenigstein.

Erbach. Presently in Odenwald in Hessen. Was Grafschaft. Member of the Fraenkische Grafenkolleg. Represented by the counts of Erbach-Erbach who were Lutheran. The Counts of Erbach were mediatized in 1806 and sovereignty passed to Hessen-Darmstadt.

Essen. Presently in North Rhineland - Westphalia. Was first assocated with a Abbey for Women. Connected to the estates of Werden and Steele. After 1609 it was protected under the Marquises [sic] [Margraf] of Brandenburg. 1802-1803 the territory was secularized and was taken by the Hohezollerns (Prussia). 1806-1813 was part of the Grand Duhcy of Berg. Again, it was taken into the hands of the Hohenzollerns.

Esslingen am Neckar. Presently in Baden-Wuerttemberg. Was Reichsstadt. Member of the Protestant corpus at the Peace of Westphalia. Its sovereighty extended over 12 villages sest of the Neckar River, a small bridgehead east of the river plus the villages of Deizisau, Moehringen and Vaihingen. 1802 the territorty was merged with Wuerttemberg.

Etsch, an der (Adige). Presently in Italy. Earlier was regional administration of the Tuetonic Knights. Absorbed by Austria. See Hoch und Deutschmeister.
-
A / B / C / D / E /F / G / H / H2 / I /J / K /L /M /N /O /P /Q /R /S /T /U / V
| | | | | | | |
| --- | --- | --- | --- | --- | --- | --- |
| | Remmick German Facts - Index Page | Hubert Home Site | Remmick.Home.Site | | | |