Last Updated: 17 Feb 2005
Edenkoben/ SUW, Pfalz - Rhineland, Germany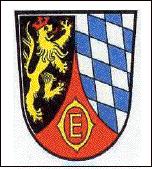 (Edenkoben / Landau, Palatinate)
Edenkoben's arms granted in 1560.
The arms combines the arms of the Counts of the Pfalz which is the lion and diamonds and the initial of Edenkoben.
Before 1560 Edenkoben was known as Oedigkoben and the seal of the area belonged to the Cistercian convent of Heilsbruck and the letter "H" was used
When reading German data the seal would be listed as the "Deutsche Wappen".
From 1560 to 1962 was listed in the district ("kreiss") of Landau, after 1969 it's in the district SUW ["Suedliche Weinstrasse"] which refers to it's location at the southern end of the Old Wine Road and is in the combined German state known as the Rheineland-Pfalz .