Last Updated 24 March 2006
Remmick's
German - Russian's
MEMORABILIA
INDEX PAGE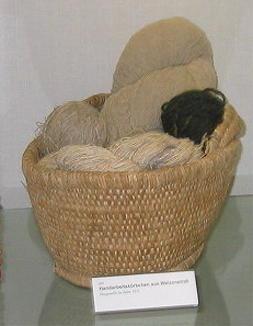 *
Basket #2 Filled With Variety of Yarn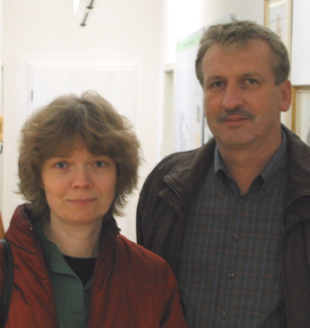 *Alfred Hein's
Photograph Collection
Taken In 2003 While Visiting
Heimatmuseum der Deutschen aus Bessarabien
Florianstraße 17
[Florianstrasse 17]
D-70188 Stuttgart
Germany
fon [phone] 0049-711-262 5481
fax 0049-711-262 8092
+ Plus +
Links and Stories by Judy A. Remmick-Hubert, and by others who are
Des. of German-Russians [GR].
Additional Memorabilia not found in the Stuttgart Museum.
NOTE: You will need to use your severs back arrow to return to this web site if you click on anything marked with this symbol.
A
A toL
ABACUS AND OTHER COUNTING ITEMS
*
B
BASKETS
*

Two baskets. One which is small and the shape of a bowl. The other looks like a picnic basket or maybe someone carried bread or bottles...

C
CARRIAGES, COACHES AND WAGONS
*
CHESTS [Traveling, Keepsake, Hope Chests]
CLOCKS
*

Alarm Clocks

CLOTHING
*

Items Needed to Make Yarn, Thread, Material, etc. from natural fiber or animal products

COOKWARE
*

Blue Enamel "Tin" Coffee Pot

D

DISHES, PLATES, AND OTHER CERAMIC AND CHINA ITEMS
*

China Plate and a small dish with handle

DOCUMENTS
DOLLS: See TOYS
*

China Doll

E
F
FARM ITEMS USED FOR AGRICULTURAL HARVESTS, Etc.
*

Machine used for cutting kernels off of ears of corn

G
GLASS ITEMS
*

Beer Bottle

H
HARNESSES AND OTHER HORSE TRAPPINGS
HOUSES, CONSTRUCTION OF

I
J
K
L
LANTERNS, LAMPS, Etc.
*

Oil Lamp

LINKS

See each item listed on this index for links which deal with that particular subject or subjects.
*From Alfred Hein's
Photo Collection - 2003
-
+Remmick-Hubert Collection

Click on this symbol to return to this page
| | | | | | | |
| --- | --- | --- | --- | --- | --- | --- |
| | Hein. Genealogy | | | Hubert | Schweikert Genealogy | |